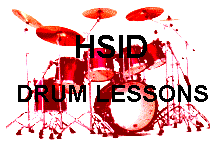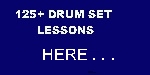 Lesson Menu #2 Intermediate & Advanced.
Lesson Menu #3
Advanced & Ultra-Advanced.
Lesson Menu #4
Text lessons: All levels.

PRODUCTS:

GET ALL THE PRODUCTS AT ONE LOW PRICE.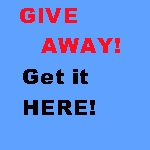 SURPRISES ABOUND . . .

For those with a bit of generosity in their soul.
CLICK HERE , to see what I mean.

Intermediate & Advanced
Drummers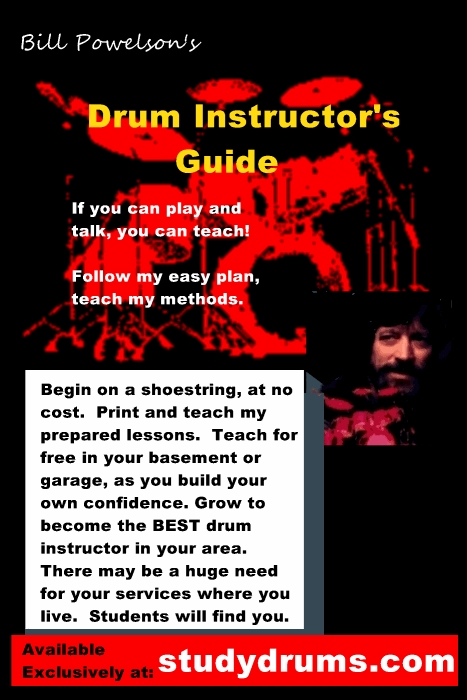 Your future is waiting.

ALL MUSICIANS
MASTER
ALL RHYTHM,

This FASCINATING WAY!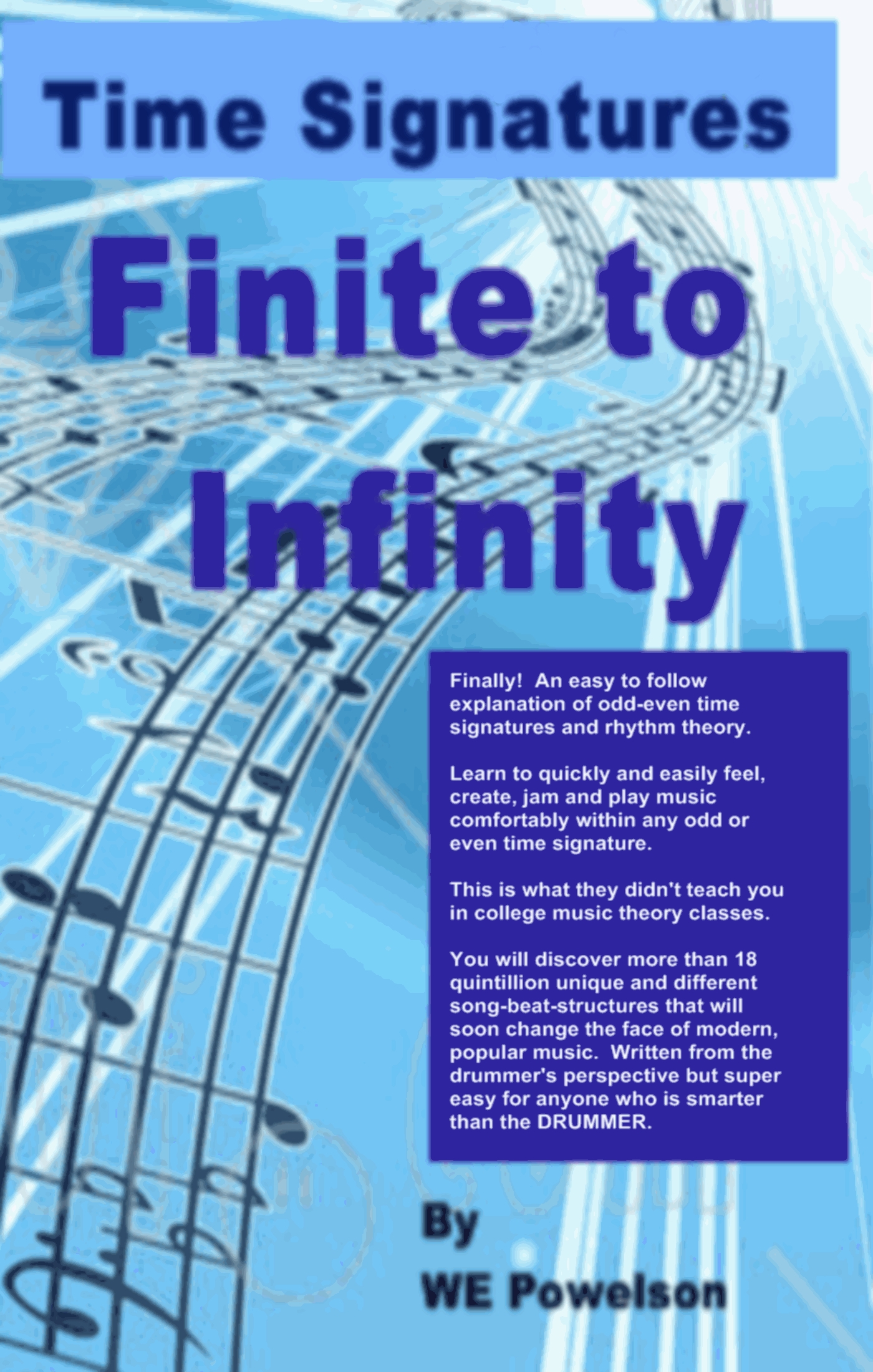 Discover the 'LOST KEY' for Unraveling ALL the mysteries of rhythm, and musical time.
This work is the crowning-achievement of my 50 year career, and it's my proudest accomplishment.
It contains the potential to help YOU change the face of modern music!
You'll love it! CLICK HERE to check it out completely!
You're in for a MAJOR surprise!

"PRE-SCHOOL DRUMMER?

YES!"
Can we teach rhythm
to pre-schoolers?

YES!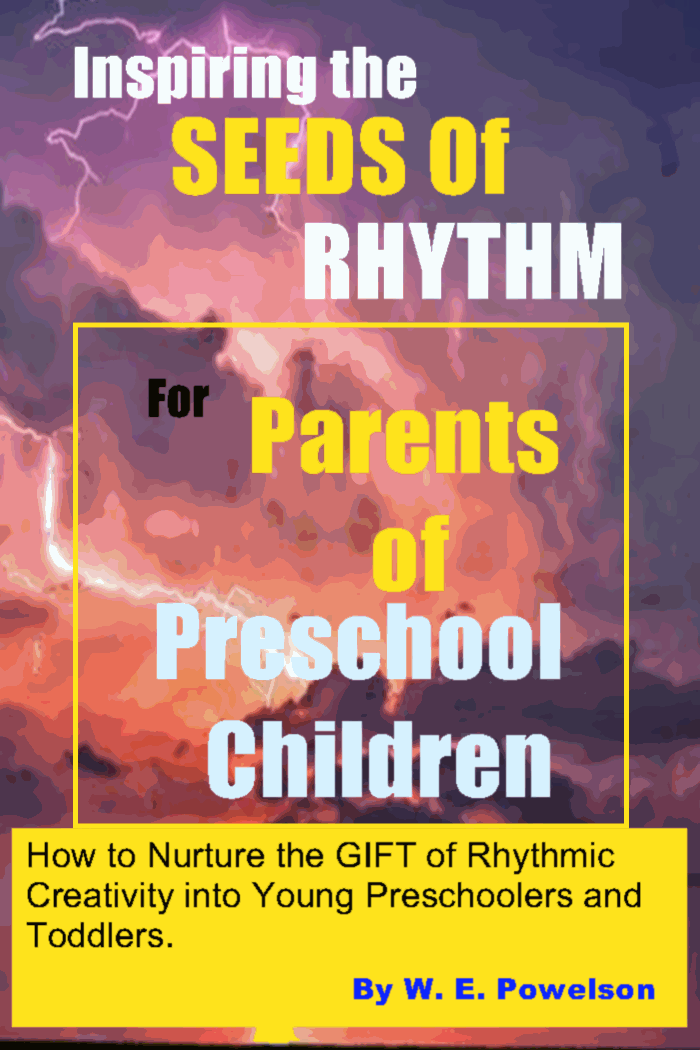 This is a very short course, designed to help adults plant the seeds of rhythm into children of nearly any age.

CLICK HERE

FREE ELECTRONIC BOOK BONUS (also included)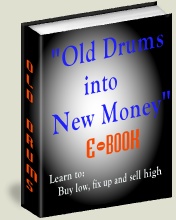 BUSINESS OPPORTUNITY:
MAKE BIG MONEY SELLING USED DRUMSETS!
* INSIDER HARDBALL-BUYING-TIPS AND SECRETS.
* UNIQUE RECOVERING SECRETS

Support this site and and gain an advetising bargain with the deal.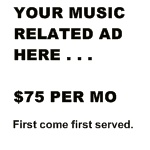 Place a permanent ad here.

GET ALL THE PRODUCTS AT ONE LOW PRICE.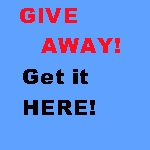 SURPRISES ABOUND . . .

For those with a bit of generosity in their soul.
CLICK HERE , to see what I mean.

Downloads * Drummers Trivia * Drummers Chat Rooms * Rudiments *
Digital Music * Knowledge Assessments * TD Archives * Drum Set Buyers Guide *
Bass-Player Jokes * Assembling a Drum Set * Parts of a Drum Set * About HSID * Video Troubleshooter

Bill Powelson's School of Drums




 Back to the Tempo Dispatch Archives  


ISSUE #62 \__\__\___THE____/__/__/ Feb 5, 2002
_______________TEMPO DISPATCH ___________
Newsletter For Drummers and Drumming Enthusiasts
Copyright Bill Powelson 2001 all rights reserved.
____________'IT'S ALL ABOUT DRUMS'_______
Tips * Tricks * Hints * Ads * Freebies * Lessons *
_________NOW OVER 10,000 SUBSCRIBERS!__________

TABLE OF CONTENTS: What is in this issue?

FEATURE ARTICLE:

1. RUDIMENT HELP (DRUMSET)
  

2. Humor:
        MORE . . . Musician Jokes.

3. Play the new DRUMMERS TRIVIA GAME.
http://members.aol.com/bpowelson/d-triv02.html

_____________________________________
|__________FEATURE ARTICLE___________|

    RUDIMENT HELP (DRUMSET)

    Be sure to MASTER the rudimental 'FILLS', first.
You'll find an entire series of RUDIMENTAL
lessons beginning at:




 Understanding Rudiments.

    Be sure to click ALL the links. Each link will lead
to additional lessons.  If you fail to click on the
'16th Single Stroke Fill', you may miss several additional
lessons.

    *  Most of the rudimental 'fill' lessons will
include SOUND CLIPS too.

    Also, see . . . TD #42 (Rudimental Applications)


    Jamming with music is the SECRET to your future
drumming success!  If you'll learn to adapt the
rudiments as you HAVE FUN jamming with music, 
you'll not only MASTER THE RUDIMENTS QUICKER,
but you'll also be gaining a deeper feel for PLAYING
WITH MUSIC as you go.  After all . . . That's the important
objective, if we'll think about it a minute.

    RUDIMENTS are easiest to master if we learn to apply
them IMMEDIATELY to recorded songs as half-bar fills. 
Trust me on this.

    TWO VERY IMPORTANT POINTS? 
    1. Rudiments are TOTALLY useless . . . if we do not have the
ability to USE them with, and ADAPT them to, the music we play.
    2. Rudimental techniques will develop on their
own WITHOUT BORING DISCIPLINE, if we simply learn to
adapt them and use them ROUTINELY with our favorite music
as we PLAY AND HAVE FUN.

    Understand the concept being illustrated in that
TD #42 lesson Above.  Once the concept is fully understood . . .
you'll gain a license to HAVE MORE FUN as you STUDY
and perfect ALL the rudiments. You'll perfect
your rudiments while jamming with favorite recordings.
    It won't be so boring that way . . . (What's wrong
with that?)
    There's absolutely no reason on earth that
rudiments must be boring!

FURTHER PROOF!
    FOR OTHER RUDIMENTAL APPLICATION EXAMPLES,
check out these TD Articles too . . . (as later lessons,
in this order . . .)

 TD #40 (Ruffs)


TD #39  (PRESS ROLLS & RUFFS)


    By studying the above two lessons, you'll
quickly discover OTHER ways to USE those two rudiments
as you jam with music.  (But, do them AFTER learning
to use 16TH Singles.) 

   
    * I don't know of a site that has all the
rudiments with sound clips.  It's a neat idea though.
Get on it, somebody!  I'll link to you. 

IMPORTANT POINT . . .
    Most of the 26 N.A.R.D. rudiments are made up of the main
or primary 4 OR 5 rudiments and rolls I stress in this
course. 

    *  Learn to play Singles, Doubles, 8th Triplets,
Ruffs and Paradiddles extremely well . . . while jamming.
THEN . . . as you study the remaining rudiments, you'll
see that they are ALL made up of those main rudiments.  The
remaining rudiments will then be easier to comprehend,
memorize, play and use . . . once the MAIN or primary
rudiments have been totally mastered.

SUMMARY . . .
    *  Master the MAIN FIVE rudiments by USING them every
day as you jam and play (with music) for fun.  The remaining
rudiments will be a piece of cake, later on. 
    *  You'll discover that you can easily go over the charts
and master ALL the rudiments in one day, (say a year from
now), by using and mastering the main rudiments as
FILLS, first.

    No discipline necessary here.  The KEYWORD is 'FUN'.
The FUN is in the music!  Find THAT, and all the rest
will follow naturally.
    If you do NOT discover the fun, everything else
will be in vain anyway . . . and there's nothing worse
than wasted discipline.
.......................................
_________________________________
|___________HUMOR? ______________|

        MUSICIAN JOKES

Q: How many bass players does it take to change
a lightbulb?
A: Only one, but he'll break ten bulbs before figuring
out that they can't just be pushed in.


Q: How many bass players does it take to change
a lightbulb?
A: One, but only after asking "Why?"

Q: How many pianists does it take to change a lightbulb?
A: Two: One to hold the bulb, and one to turn his throne
(but only after they figure out that you have to turn
the bulb).

Q: How many guitarists does it take to change a
lightbulb?
A: None. They have a machine that does that now.

Q: How many bluegrass musicians does it take to change
a light bulb?
A: Two - one to screw it in and one to complain that
it's electrified.

Q: How many bluegrass musicians it takes to change a
light bulb?
A: Three, one to do it and two to argue about whether that
was the way Bill Monroe would have done it.

Q: How many bluegrass musicians it takes to change a
light bulb? A: It doesn't matter because the banjo player
is gonna' change it again anyway after everybody else
is done.






 






QUESTION:  How much work do you think has gone into this presentation
of more than 125 drum set lessons?  It's a complete course!



ANSWER: 50 years (night and day) X 40 hours per week!  That's approximately
104,000 man hours!

 Treat yourself to my BEST stuff!  You have no idea
how much time I can save you!

 

END OF TEMPO DISPATCH #62 FEB 5, 2002



 




Copyright Bill Powelson 1994 all rights reserved.