I Want To Offer You A Great New Future!


Or; Read On . . .
You May Love This Deal!
What follows is a somewhat different and unique idea. It may help raise you to rhythm-guru status, put money in your pocket . . . and allow you to help millions of people at the same time . . . all for a mere $45!
First of all, I'm now in my 70's after a great long life and career as a drummer and drum teacher. It has taken the better part of 50 years to present these lessons in the manner they are presented here.
I want all this to out-live me, yet pay its own way as it runs on automatic after I'm gone. It simply MUST pay its way with donations or it will disappear. That would be a shame, because it is undoubtedly one of the very BEST courses of its kind anywhere in the World. You will discover that, as you study it!
This well established course in drum set techniques has been online since 1994, but I'm risking it all, to try something new here. (I'm practically offering to give away a small fortune!)
For years . . . I've sold password memberships to this complete course. Between 1994 and 2007, EACH AND EVERY student 'PAID' to study all these same lessons, via a membership plan.
The old plan worked fine for me! It has given this old retired drummer a decent retirement income over the past 13 years . . . But, now it's time for me to give back, in a BETTER way! I want to do more than I've done previously and as I said, I want it to survive me!
The (old style) password memberships, paid for maintenance of the site and paid me too; But the 'less advantaged' folks were left out. Many of the less privileged people (in 3rd World countries) simply couldn't afford to pay for membership, in order to study all the lessons. In some countries, the previous costs of this course might represent a years wages!
That has always haunted me. I've always searched for a BETTER way! Maybe this is it! I've always wanted to teach THOSE people too . . . even though they simply can't afford the complete course. (You would be amazed at how fluently many of them read, write and speak, English!)
I have no advertising budget at all. If these courses are to survive, they will be dependent on the search engines and your generous donations. Without both, it will all disappear as I do.
I've thought about this new idea long and hard for many months. Finally I've decided to throw caution to the wind, and give this new plan a shot, right here on the web page you are currently reading!
I want to see what YOU think about it! Your response (or lack of response) to this will tell me what I need to know.


Know it or not . . . It costs a LOT of money, energy and time, to maintain and keep all this available! There are many costs and expenses associated with providing a resource such as this. Bills MUST be paid . . . or it all goes down in flames!


Think about all that as you read . . .
My idea is to get 'some' GOOD people like you to invest in THEMSELVES, AND HELP ME KEEP THIS DRUM COURSE FREE FOR OTHERS, at the same time. This way, the investor-contributor receives a lot more for their money! Their contribution, or investment in themselves TAKES THEM TOWARDS GURU-STATUS. Meanwhile their investment goes on to pay the bills here, and keep the 125+ lessons of the course free for others too. This is a win/win idea all the way around!
In other words . . . I want to try to entice the people who are not impoverished, to study my other additional courses to HELP pay for those who can not pay. The plan, is to simply get those who have the funds, to INVEST DEEPER INTO THEIR OWN FUTURE, while helping other less fortunate people at the same time.
Look immediately to your right at the Blue "Finite to Infinity" e-book" icon, over in the right column. That humble appearing e-book WILL eventually evolve and change the course of ALL modern music!
That's a rather bold statement I know . . . but the knowledge it contains is absolutely profound. As it becomes more widely known and distributed; those who discover its secrets will be the very individuals who will proffer most from its revelations. It is pure rhythmic-dynamite. . . and Even THAT is an understatement!
I've stumbled onto some things during my very long career that are truly amazing, to say the very least.
I'm realizing that (until now), no one has ever COMPLETELY UNDERSTOOD the TRUTH concerning musical time and time-keeping (rhythm) since the inception of our current time-signature system over 500 years ago. The profound discoveries I've been gifted to uncover, will forever change the way rhythm and musical-time will be taught and used in the future. This actual truth is so simple; yet it has been cloaked in unnecessary trite and redundant enigmas for Centuries. Those 500 year old mysteries are completely uncloaked within the seven very easy-to-follow chapters of "Musical Time: Finite to Infinity".
You'll need to read and understand that book to appreciate what I'm saying. In the least words . . . I'll just say that once it takes hold, it will move and shake the musical World to its very core! Those who read and understand it first, will become the NEW Movers and Shakers of future popular music.
It may take 50 years, or it could occur tomorrow, but it WILL happen! The lost knowledge within 'Finite to Infinity', is on a level with the Unification of Relativity, as far as musical-rhythm-education is concerned. It is World-changing knowledge.
It's a major game-changer for drummers especially; but all musicians, composers and music innovators of the future will soon be using that knowledge to quickly evolve modern music into the next epoch. Those people will become the new icons of music who will actually bring about the coming changes, as a result of the knowledge they will gain from that short, simple but very explosive little e-book. (It's free with your $45 donation!)
That e-book is the crowning achievement of my 62-year career as a drummer/teacher/analyst of musical time. You NEED it . . . (and I should probably say no more about it, here).
I'm blushing a little as I write, but when I get started on that e-book I can't stop. It contains the greatest rhythmic gift of all . . . to those who read and fully understand it. It needs and begs to be in the hands of EVERY musician and music-educator in World.
If you'll donate $45, I'll give you (and your chosen recipient) all these additional courses for free. Look for them and learn about them in the columns and at the bottom of nearly every web page. You will get them all for $45!
You (and your chosen beneficiary) will receive the 125-lesson course; plus all the downloads; 4 other bonus courses and permanent membership; all for the one-time low $45 donation fee.
Receive All 5 e-manuals:

Password authorization to more than 125 website lessons, most with video!
Dowloadable! Place it on one or a hundred CD's or DVD's if you wish.
"Old Drums Into New Money"
78 (or more) archived newsletter lessons.
Finite to Infinity (Musical Time: EXPLODED!).
Drum Instructor's Guide.
Guide for Parents of Pre-schoolers. Teaching toddlers!
Unlimited e-mail personal help anytime you need it, until . . .?
Free Updates.
Permanent Membership.
Are you getting the picture? It's one-stop shopping for all your drumming educational needs! This is the only course in drumming you'll ever need! You'll need to study the lessons to realize the absolute truth in that statement. I encourage you to do just that.
The investors/contributors will gain MORE than they donate, as they study my exclusive and deeper courses, but their investment will help keep the free 125-lesson course afloat! They'll be helping other (less fortunate students) study the course, absolutely free!
I'm attempting to launch a new idea that could help make this material free to those in the world who can not afford to pay for lessons.

I'm working to completely dispose of all the encryptions

and all the cloak and dagger stuff, too.
I just want it to be free to the disadvantaged, . . . yet pay it's own way! I'm not trying to get rich here. So, as you will see (if you haven't already); all 125+ lessons are now free, with no tricks or gimmicks. Just walk through the lessons at your own pace and learn at your own pace.
Here is an Additional Bonus . . . I call it a DOGO deal. Donate for One and Get One free.
If you'll donate (one-time) $45, for one membership, I'll give you the option to give a SECOND MEMBERSHIP to anyone you choose.
I often give all these courses to people in under-privileged situations, but You can help with that, if you know someone who is truly deserving. I'll let YOU choose the second recipient.
Consider this very important point . . .
Please be aware that if you were to study these VERY SAME (web site) lessons with me in my private studios, they would cost you far in excess of $2,000, at one-lesson-per-week, over a two or three year period. You are seeing them all for free here, and you can study at your own pace.
Here online . . . Many of the really talented students can 'ACE' this entire 125-lesson course, in under 6 months, and sometimes less! People tend to learn at a much faster rate online, than they will in private classes. Believe it! It's true! You will not need private lessons if you take these lessons! These are exactly the same lessons I'd be giving you in my private studios at a rate of $50 per hour. (Do the math!)
If you'll do your part, DONATE $45 AND RECEIVE ALL THE PRODUCTS, I'll allow you to choose a recipient, (anyone you wish) to receive a duplicate membership, at no additional cost.
40 years from now . . . that measly $45 dollars will seem rather insignificant if I can teach you (or your chosen beneficiary) how to make that much, every hour of your life, for the next 40 or 50 years!
Nothing is EVER free these days! Everything costs SOMEONE something, in one way or another! It costs a lot of money to provide valuable free content such as this. I honestly can't afford to do it, but I'm driven (by forces I can't explain).
Who should foot the bill and pay for the mounting costs of a resource such as this?
In my heart, I want to GIVE my 50 years of teaching and playing experiences away, but I know that my heirs will not, and I'm getting pretty old.
ANSWER THIS! Should I, (or my heirs) pay money out of pocket . . . to offer all this for free? How long will it last, that way?
Yes! I hold some secrets that I just do NOT give away to everyone who asks! These courses contain priceless knowledge that you won't find anywhere but here. Be sure to check each of them out thoroughly.
No! You do NOT have to be a seasoned-pro to make a lot of money behind a set of drums! Those additional courses will show you exactly how to do it.
THINK ABOUT THIS, AS WELL . . .
You'll gain download access to all 125-lessons at the hidden site, plus you'll receive ALL the following short courses, in gratitude for your $45. It's a 'contribution-donation-investment' in yourself, that will go on to help people you'll you will never know or meet.
There's no way to lose on this!
Even if you do not study ANY of the lessons, you'll still be helping thousands of other people WHO ARE VERY SERIOUS ABOUT DRUMS. I often give these lessons to kids and impoverished people in 3rd world countries. They e-mail me and I get to know them. If they seem worthy, I just send them passwords and allow them free access to the lessons.
Yes! All paid members (those who donate $45 or more) will also be allowed to choose a recipient as well. You both can download all the lessons, to your own computers. It's good to have the download because all the lessons will load quicker.

HOW YOU CAN RECEIVE 100% FREE MEMBERSHIP
I do hope to pass this web site along to my heirs after I'm gone, if it is still paying it's own way. I'm now well into my 70s. I would hope to see it stay online forever. But if doesn't pay its way, it'll fade to black, when I do. However; if it is paying its own way, it'll more or less go on automatic, (I hope, forever).
Much will depend on search engines like Google, Yahoo, Bing and Ask.
I know it's a lot to ask, but good link-backs to this site will influence the search-engines more than anything. If you can provide link-backs to this free public web site, please do it. A good link-back is probably MORE valuable to the future of this web site than the donations! Therefore; ANYONE who can provide a link-back to will qualify as a paid member, as long as I can beat a drum. I'll promise you free access to everything!

LINK-BACK AND RECEIVE 100% FREE MEMBERSHIP

Simply copy and paste the entire following code to your own web pages:


Excellent and totally FREE drumset lessons online (no tricks or gimmicks). Beginner thru Ultra-Advanced lessons will help anyone quickly achieve Monster Drummer status. Bill Powelson's Homestudy Institute of Drums at: <a href="http://www.studydrums.com">WWW.STUDYDRUMS.COM</a>


After you've added the above link to your web site, notify me by e-mail and inform me where you've placed the link. I'll send you your passwords and free access to everything.
These lessons need to be easily accessible to everyone, indefinitely! You can help make that happen with a donation or a link-back. I know in my heart that it's the easiest, fastest and BEST way on earth to learn and develop the art of drumming. You will too, if you study these free lessons.
These courses are 100% digital and immediate. NO WAITING FOR SNAIL-MAIL!
Instant access!

and easy to download.
OK! Here They Are!
Both You and Your Chosen Recipient Will receive Everything Below With Your $45 Donation Investment.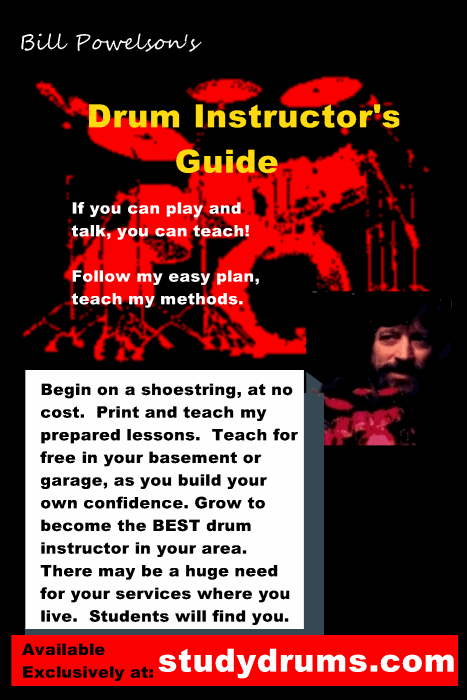 |
|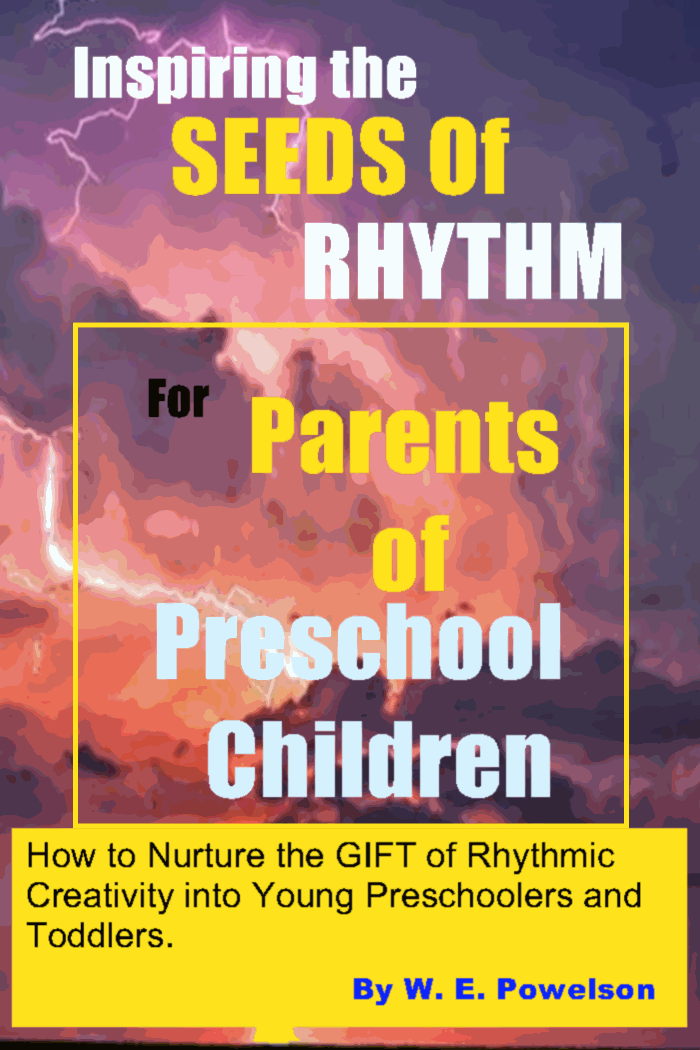 1. THE DRUM INSTRUCTOR'S GUIDE:($45.00 value.)
If you can learn to play . . . you can also learn to teach! It's easier than playing!
ACCEPT THE FOLLOWING AS GOSPEL!

If you can stay a few lessons ahead of your best (beginning) students, you can get paid to learn, while presenting my simple teaching-methods to your own students!
I'll show you how to get started for next to nothing, as early as tomorrow! I'll show you MANY ingenious ways to acquire a LOT of students at very little, or no expense!
No confidence? I'll plant abundant confidence in your heart and soul so easily you won't believe it! It's all about starting with just the right students, the RIGHT way. Your confidence and your ability as a teacher and drummer will grow exponentially with just the first few successes.
This thing is a FRANCHISE CAREER! Believe it! Yet, it's a give-away BONUS!
Discover just how easy it is to make a full or part time living, teaching MY drum set techniques to people within your own locality and neighborhood. I furnish the lessons and knowledge! All you do is present it, and make OUTRAGEOUSLY GREAT MONEY!
I'll teach you exactly how to do it, step by baby-step. You might begin as early as tomorrow if you can already play adequately well. You won't believe how easy and profitable it is.
This very special INSTRUCTOR'S GUIDE' (short course) is an easy 2-hour read that could change your life almost immediately . . . forever! It's not only a paying job . . . but, better than that; It's actually the BEST way to master and perfect your own drumming techniques! If you are serious about drums, and if it's your job, and if people are paying you . . . it'll force you to work and study harder! You do NOT have to be a master drummer to teach drums. You simply need the ability to stay ahead of your students and communicate my pre-designed lessons to them
You'll master everything as you go . . . and with just a little effort and fortitude . . . you'll be getting paid, as you learn.
Advanced and Intermediate drummers, age 12 and above, with a little fortitude, can do this! It's great for almost all ages! Click on this link to learn all about it!
It's free with a $45 donation!
Why not begin a teaching career at age twelve?
Argue that point with me and I'll shoot it down! This plan is great for talented kids, and/or adults, of ALL ages!


So . . . You don't think 'teaching' is your cup of tea? Then, consider this! It's also included as a part of your $45 donation-investment in yourself!
2. MASTERING ALL RHYTHM:
"Finite to Infinity". (Another $45.00 value.)
ACHIEVE 'RHYTHM GURU' STATUS IN UNDER 2-HOURS! This short 7-EASY-LESSON course will give you the lost key that will allow you to unlock the (previously overlooked) mysteries of all RHYTHM and MUSICAL-TIME. All musicians will absolutely LOVE this fascinating adventure into rhythm and musical-time. Guaranteed!
This isn't just for drummers! It's for ALL musicians! This knowledge will make you the envy of even the greatest musicians who aren't aware of this 'little known' knowledge! Most working professionals will be totally blown away by this very simple and easy to digest wisdom.
Read more about it here.
It's also free with a your $45 donation!


And . . . What about this next one, below?
Are there any budding, young, PRE-SCHOOL DRUMMERS in your life? You can help change their lives, and build a lifelong bond with them at the same time! It's great for parents, grand-parents, older siblings, and pro-teachers as well!
But . . . It ain't rocket Science!
It's almost TOO easy! Follow my easy methods and you may produce a killer-drummer, before the kid graduates Kindergarten! It tends to work, 9 in every 10 times, if it is consistently reinforced correctly!
3. PRE-SCHOOL DRUMMER: (Another $35.00 value.)
Help for parents of pre-schoolers who would like to nudge their tykes and even their toddlers, into the exciting world of rhythm, and drumming. Yes! It's possible to instill rhythm into children of almost any age. Click on this link and check it out!
This TOO is free with your $45 donation!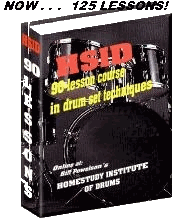 |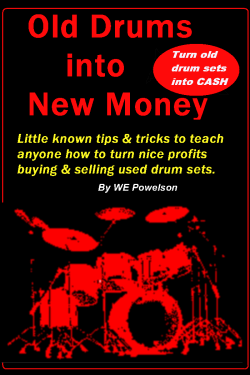 4. "Old Drums Into New Money" is a short e-book course that will teach you how to buy and sell drums for profit. It's a free bonus too! In my honest appraisal, it works, but it involves a lot of real work. There are profits to be made, but you will break a few finger-nails to get at them.
5. "The Tempo Dispatch Archive" is a series of 78 newsletter lessons. At one time I sent the newsletter out to thousands of students around the world. All the filters that are in place now, put an end to it. It's no longer available via e-mail, but I've added all those lessons to the online course, and the download. You'll get them all as an additional free bonus. Then (of course), Your $45 donation-investment will also give you FREE access to this as well . . .
6. THE COMPLETE, STRUCTURED, 125-LESSON DRUM COURSE:
There are actually more than $2,000.00 worth of drum set lessons in this package deal!
These aren't just 'random' drum lessons! It's a complete STRUCTURED course that has been in development since the mid-1960s. The objective is to take you from beginner to pro status, within the LEAST amount of lessons and with minimal frustration!
Why study thousands of fancy 'shrink-wrapped' videos and lessons you don't actually need? Why pay for a slick video of 'some kid' . . . showing you how fancy HE can play? That won't help you a bit! Will it?
No! That would be a major waste of your time, don't you think? Doesn't it seem wiser to opt for the SPECIFIC lessons you DO need?
You need structured lessons from a seasoned teacher. You need lessons that are the same equivalent as PRIVATE LESSONS with a seasoned, private instructor!
Think about that!

The 125-lessons in this STRUCTURED COURSE, have been designed (by me) via trial and error over a 50 year period of time. Each lesson is designed to help you reach your goals in the SHORTEST amount of time. That's what this COMPLETE course is designed to do!
To take these lessons is virtually the same, OR BETTER, than visiting me once a week, over a two year time-period, for private lessons. The best part is . . . if you are really talented and eager, you may 'ACE' the entire thing in as little as 6 months.
This course, from THE HOMESTUDY INSTITUTE OF DRUMS, is the first, the oldest, and the best, on the web. There are a lot of imitators out here now . . . but this one course will still be here when they are all gone, with YOUR help.
Donate just $45! Invest in your own future, and help others at the same time! Sign-up, and commit yourself to something very special, right now!


You'll receive all the above for FREE, in gratitude for your $45 (or more), donation:
Donate ONCE, and get them all, while providing FREE lessons to someone you've never met, in places like India, the Philippines, or Timbuktu. Think about the value of that alone! How will it feel to add something like this to your own list of life-credits!
Like I said earlier! This is an INVESTMENT IN YOURSELF as well as a donation that will help serve other less privileged, eager drum students, around the World!
Believe me! This is a fantastic bargain! The knowledge contained in this online package, is absolutely priceless! These products are designed to repay your investment, a thousand times over, if you'll study them, learn from them, and then act on them.
That part is up to you! Just DONATE, study, and learn! The rest will happen! Good things come to those who give.


Click the PAYPAL icon and DONATE NOW!
Thousands of student drummers around the world will owe you a debt of gratitude, whether pursue drumming or not.

Just do it! You'll receive 'same day' access to ALL the products as soon as I receive (Paypal) notification of your donation.
NOTE: You do not have to be a Paypal member to have them process your credit card. Simply enter the info and click 'Submit".
BUT . . . If you ARE a Paypal member, you may just login to your Paypal account. Click on 'Send Money', then send the desired amount, to: Bill Powelson, billp@studydrums.com
<!PAYPAL>

International copyright secured @ Bill Powelson 1965-1994-2008-2014 all rights reserved.