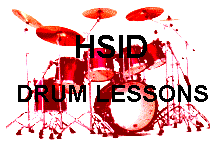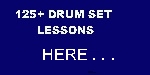 Lesson Menu #2 Intermediate & Advanced.
Lesson Menu #3
Advanced & Ultra-Advanced.
Lesson Menu #4
Text lessons: All levels.

PRODUCTS:

GET ALL THE PRODUCTS AT ONE LOW PRICE.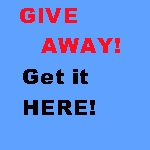 SURPRISES ABOUND . . .

For those with a bit of generosity in their soul.
CLICK HERE , to see what I mean.

Intermediate & Advanced
Drummers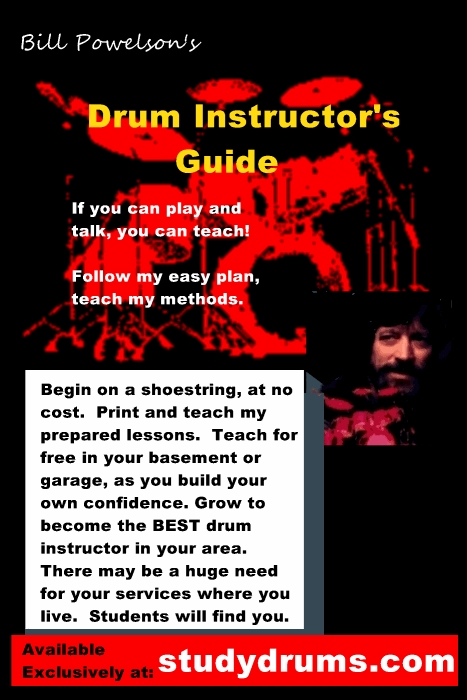 Your future is waiting.

ALL MUSICIANS
MASTER
ALL RHYTHM,

This FASCINATING WAY!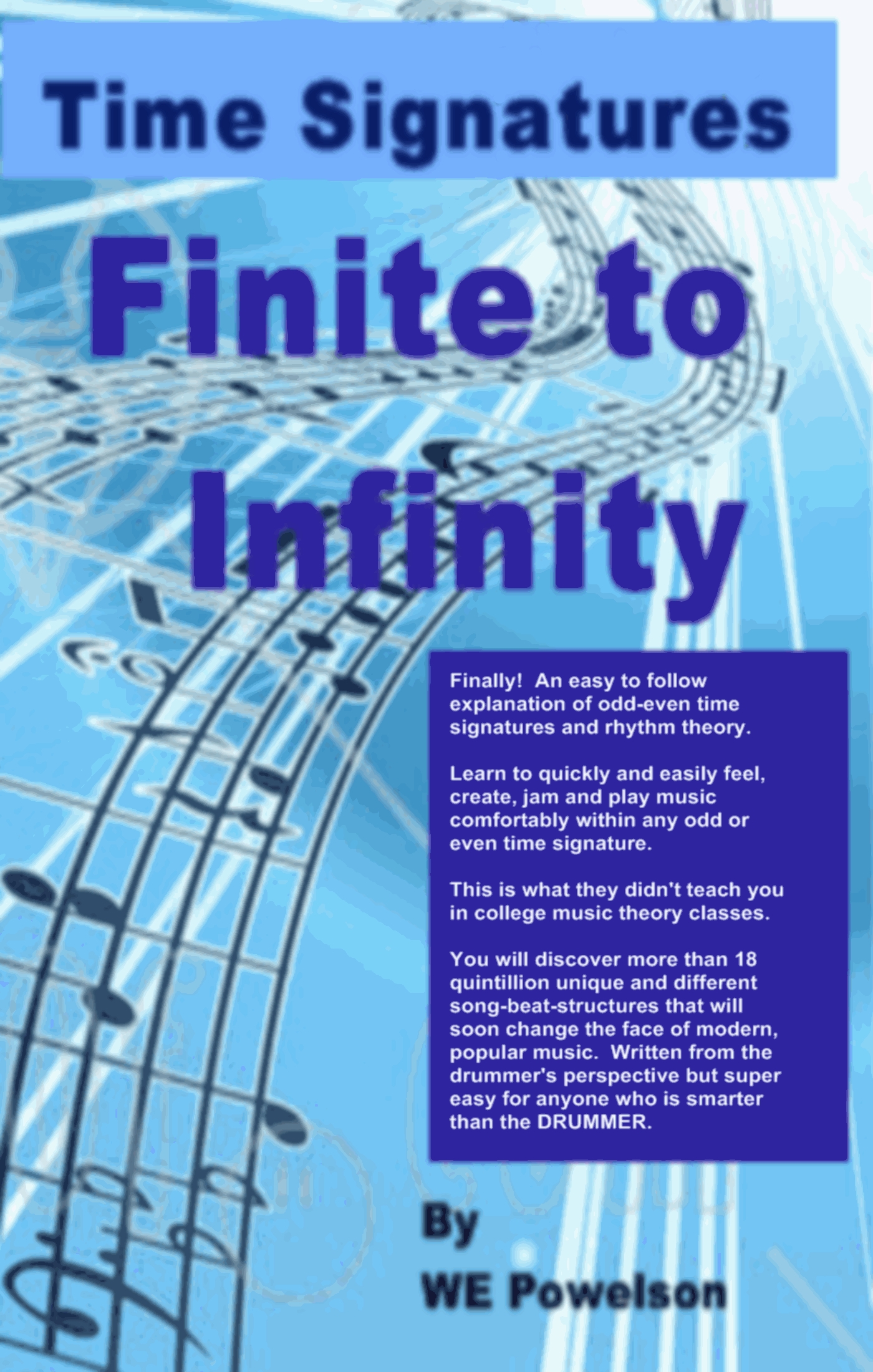 Discover the 'LOST KEY' for Unraveling ALL the mysteries of rhythm, and musical time.
This work is the crowning-achievement of my 50 year career, and it's my proudest accomplishment.
It contains the potential to help YOU change the face of modern music!
You'll love it! CLICK HERE to check it out completely!
You're in for a MAJOR surprise!

"PRE-SCHOOL DRUMMER?

YES!"
Can we teach rhythm
to pre-schoolers?

YES!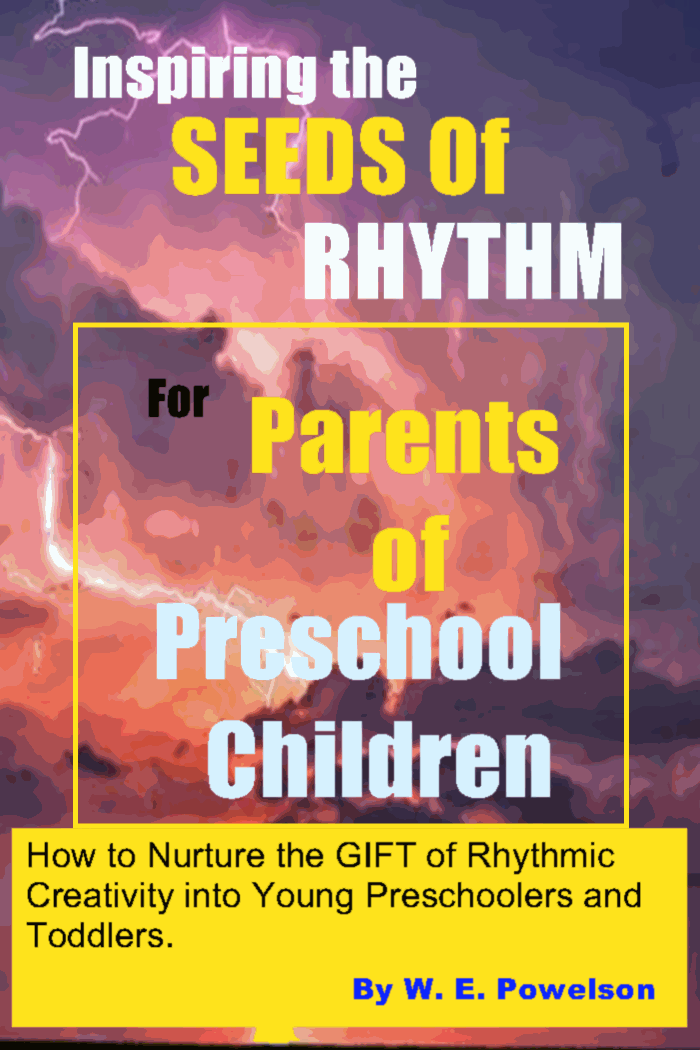 This is a very short course, designed to help adults plant the seeds of rhythm into children of nearly any age.

CLICK HERE

FREE ELECTRONIC BOOK BONUS (also included)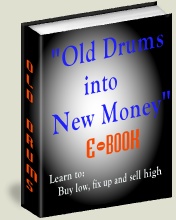 BUSINESS OPPORTUNITY:
MAKE BIG MONEY SELLING USED DRUMSETS!
* INSIDER HARDBALL-BUYING-TIPS AND SECRETS.
* UNIQUE RECOVERING SECRETS

Support this site and and gain an advetising bargain with the deal.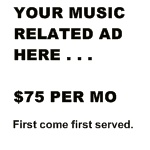 Place a permanent ad here.

GET ALL THE PRODUCTS AT ONE LOW PRICE.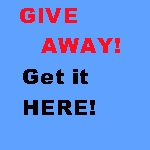 SURPRISES ABOUND . . .

For those with a bit of generosity in their soul.
CLICK HERE , to see what I mean.

Downloads * Drummers Trivia * Drummers Chat Rooms * Rudiments *
Digital Music * Knowledge Assessments * TD Archives * Drum Set Buyers Guide *
Bass-Player Jokes * Assembling a Drum Set * Parts of a Drum Set * About HSID * Video Troubleshooter

Bill Powelson's School of Drums




 Back to the Tempo Dispatch Archives  


ISSUE #71 \__\__\___TEMPO DISPATCH  ___/__/__/ Nov 5, 2002
         Monthly Newsletter / DRUM SET LESSONS
  Copyright Bill Powelson 2002 all rights reserved.
________________'IT'S ALL ABOUT DRUMS'______________
* Tips * Tricks * Hints * F*r*e*e Drumset-Lessons *
__________NOW more than 14,500+ SUBSCRIBERS!__________

IN THIS ISSUE . . . (FEATURE ARTICLE):

1.  HOW TO ACQUIRE 'TEMPO PERFECTION'. Mastering the
TIME-KEEPING process. 

2. Humor: Two Hunters & FOR WOMEN ONLY

___________________________________
|__________FEATURE LESSON___________|

TEMPO PERFECTION AND HOW TO ACHIEVE IT.

     THINK ABOUT THIS!
     As we play ANY beat in ANY song, we are slicing
BEATS PER MINUTE into millionths.  We must CONSISTENTLY
land on the same millionth of a second . . . within EACH
repetition of the beat, or we aren't perfect!

     It's virtually IMPOSSIBLE to do that consistently,
with EVERY repetition of EVERY beat, in EVERY song!

     What is the solution?

     There are many!  I'll try to shed some light
on how it might best be accomplished, here.

TEMPO PERFECTION: TIP #1
     #1.  We must possess a DEEP, inner-sensitivity and
FEELING for the backbeat flow of the music.  This is the
NUMBER ONE PRIORITY!
     
BEGINNING STUDENTS SHOULD LEARN ABOUT THE  BACKBEAT 

TEMPO PERFECTION: TIP #2
     #2.  MASTERY OF THE BASIC DANCE BEATS.  I know a lot
of the young 'hotshot' drummers 'THINK' they are much too advanced
to waste valuable time on the basic beats.  But, that sort of
thinking is about the most serious mistake they can make.


GEARING-MECHANISMS . . .
    Students who do not FULLY UNDERSTAND THE GEARING-MECHANISMS inherent
within the combined structures of ALL FIVE basic beats, will Sooner or later
encounter tempo problems, somewhere, sometime on some songs.

    Slower songs tend to give us the MOST trouble onstage.
 
    Yes!  We'll need PERFECT TEMPO, with even the slowest
of songs TOO, or our band may be replacing the drummer
sooner than we expect. 

    It's the (less than obvious) 'mathematical-gearing-mechanisms'
within each of the BASIC BEATS that will afford us TOTAL
TEMPO CONTROL within ANY TEMPO.
 
    REMEMBER THIS!
    The SLOWER the tempo . . . the MORE TEETH we will need
in our gearing-mechanism.  (In this case, the 'teeth' are the
cymbal-notes we'll play on the hat.)

    The FASTER the tempo . . . the LESS 'teeth' we will need.
Consider it a PHYSICAL LAW of timing, tempo and speed.

    Be aware of this point, as you study the BIG FIVE BASIC
DANCE BEATS:
    Analyze the NUMBERS!  See the NUMERICAL-PATTERNS that exist
within the cymbal notes . . .  THAT'S THE GEARING-MECHANISM
I'M TRYING TO HELP YOU SEE WITHIN THE . . .  Primary Beats.

    Notice how the SLOWER BEATS are using MORE TEETH (or cymbal
notes), and the FASTER BEATS USE LESS.  It's just like the gearing
of an automobile. 
    In our car, The LOWER, SLOWER GEARS need more teeth . . .
and the HIGHER, FASTER GEARS, will use less.   We shouldn't try
to use low gear at 120 MPH (or KPH), nor should we try to
go 4 MPH (or KPH) in HIGH GEAR.
    The BASIC Drum beats work on this same principle.


    This simple bit of common-sense knowledge will help you
achieve TEMPO PERFECTION onstage, and it will help make you a
front-runner, when it comes to holding tempo like a human metronome. 
   
TEMPO PERFECTION TIP #3
     #3.   TEMPO TEAMWORK (ONSTAGE):  This is yet ANOTHER WAY
to achieve indisputable command of perfect tempo.

HERE'S A FEW LINES FROM THAT IMPORTANT LESSON . . .

     We need an ALLIANCE . . . hopefully with our bass-player.

     If only we can persuade the bass player to stay with us
(and vice versa) it will create a welding or solidifying element
that will work to stabilize the bottom of the music in such a way
that our tempo will become virtually unshakeable. The weaker
band members who might otherwise follow a 'tempo-offender'
(like sheep) into the pit-of-doom, will now be compelled to stick
with the strongest force in the band . . . That's the
bass-player/drummer ALLIANCE I'm talking about.

     At this point . . . the bass player and drummer become
invaluable members of the group.   This is the point where
an otherwise 'lame' band . . . begins to take on real dynamics
and fire! 
    Together . . . a strong bass player and a strong drummer
(working together) can take total control of nearly any band
and keep it.
 
HERE'S HOW TO MAKE THIS HAPPEN IN YOUR BAND:
     It's all in the 'ears', and learning to listen!  We
must really listen and anticipate our bass-players every
move!  It is important to know what your bass player is
thinking . . . memorize the moves . . .  the kicks, the
licks, and the musical phrasing.  STICK LIKE GLUE!
     In one word . . . COMPLIMENT the bass-player (musically)
in every way you possibly can.  Then, encourage that
bass-player to do the same for you (with a baseball bat
if necessary, haha.)  
     This is the sort of tempo-teamwork that can take any
band out of the dives, and straight into the top paying jobs.

TEMPO PERFECTION TIP #4
     #4.  At the risk of making this sound like a blatant
advertisement for Groove Guides, I must say that a Groove
Guide 'DOES' offer the best and most obvious SOLUTION or
FIX for NEARLY ALL TEMPO PROBLEMS.

     FIRST . . . We must realize and accept the fact that
we are ONLY human!  We weren't designed to split minutes
into 'millionths of a second' with the same precision of
a Swiss watch. 
    If we are silly enough to THINK we can . . . we're only
fooling ourselves.

     Those of us who may THINK we are perfect, are probably
the worst of all, when it comes to actually doing it.  Like
I said . . . it's virtually impossible to split EVERY second
to the exact same MILLIONTH OF A SECOND, on EVERY repetition
of EVERY beat on EVERY song.
     Mechanical and/or electronic help will be needed if
we are ever to resemble perfection.

     The Groove Guide was invented for this PRECISE purpose.
     A Groove Guide works just like the SPEEDOMETER on an
automobile. It senses the (backbeats) tempo we are playing, then
reports that tempo back to us VISUALLY, in BEATS PER MINUTE.

    
     * If we are slicing the tempo PERFECTLY on every repetition
of the beat . . . it will tell us VISUALLY.
     * If we slow the tempo (or drag), it will tell us VISUALLY.
The number of BEATS PER MINUTE will decrease.
     * If we speed-up (or rush) the tempo, it will tell us VISUALLY. 
The number of BEATS PER MINUTE will increase.

     Once we are AWARE of our tempo imperfections (on ANY specific
song) . . . it's much easier to aim for the true TARGET TEMPO and
hold onto it.
     To acquire the ability to do that will translate into POWER
WITHIN THE BAND, as we play.  The other musicians in the band will
KNOW that the drummer is right-on, and they'll follow without
dispute or argument.
     WE DRUMMERS WILL BECOME THE TEMPO LEADERS OF THE BAND,
rather than tempo followers. 

     *  This in-turn causes a positive WELDING effect for
the ENTIRE BAND, and that's exactly the thing that will make
ANY band . . . kick-butt, and ANY DRUMMER A MOST-VALUABLE-PLAYER.

     Check out the Groove Guide, here:


NO LONGER AVAILABLE:  SEE THE 'TEMPO REF' AT:

www.luglock.com

     It's a newer version of the Groove Guide and the Beatbug.
.......................................................

     Here ONLINE . . . Many of you may find it easy to absorb
SEVERAL lessons per week, while others may need several weeks
on each lesson!  That's the advantage of online lessons!

........................................................

_________________________________
|___________HUMOR? ______________|

This was voted the World's Funniest Joke.
 
A couple of New Jersey hunters are out in the woods when
one of them falls to the ground.  He doesn't seem to be
breathing and his eyes have rolled back in his head.
 
The other guy whips out his cellphone and calls the emergency
services.  He gasps to the operator: "My friend is dead! 
What can I do?"
 
The operator, in a soothing voice, says:"Just take it easy. 
I can help.  First, let's make sure he's dead."
 
There is a silence, then a shot is heard.  The guy's voice comes
back on the line.  He says: "OK, now what?"

....................................................
Thanks to David Ross for sharing that one with us.
....................................................

FOR WOMEN ONLY . . .
Q. Should I have a baby after 35?
 A: No, 35 children is enough. 35??  I heard 8 is
enough, but I thought 3 was maybe TOO MANY!! (Only kidding!)

 Q: I'm two months pregnant now. When will my baby move?
 A: With any luck, right after he finishes college. (When
do you think??)

 Q: What is the most reliable method to determine a baby's sex?
 A: Childbirth.

 Q: My wife is five months pregnant and so moody that
sometimes she's borderline irrational.
 A: So what's your question?

 Q: My childbirth instructor says it's not pain I'll feel during labor, But
pressure. Is she right?
 A: Yes, in the same way that a tornado might be called an
air current.

 Q: Is there any reason I have to be in the delivery room
while my wife is in labor?
 A: Not unless the word "alimony" means anything to you.

 Q: Is there anything I should avoid while recovering from childbirth?
 A: Yes, pregnancy.

 Q: Do I have to have a baby shower?
 A: Not if you change the baby's diaper very quickly.


 Q: Our baby was born last week. When will my wife begin
to feel and act normal again?
 A: When the kids are in college.

  "ESTROGEN ISSUES"
  WAYS TO KNOW IF YOU HAVE "ESTROGEN ISSUES"
  1. Everyone around you has an attitude problem.
  2. You're adding chocolate chips to your cheese omelet.
  3. The dryer has shrunk every last pair of your jeans.
  4. Your husband is suddenly agreeing to everything you say.
  5. You're using your cellular phone to dial up every bumper sticker
that says: "How's my driving-call 1-800-****."
  6. Everyone's head looks like an invitation to batting-practice.
  8. You're sure that everyone is scheming to drive you crazy.
  9. The ibuprofen bottle is empty and you bought it yesterday.

TOP TEN THINGS ONLY WOMEN UNDERSTAND
  10. Cats' facial expressions.
  9. The need for the same style of shoes in different colors.
  8. Why bean sprouts aren't just weeds.
  7. Fat clothes.
  6. Taking a car trip without trying to beat your best time.
  5. The difference between beige, ecru, cream, off-white,
and eggshell.
  4. Cutting your bangs to make them grow.
  3. Eyelash curlers.
  2. The inaccuracy of every bathroom scale ever made.

  AND, the Number One thing only women understand:
  1. OTHER WOMEN

  Send this to all the bright, funny women you know and
make their day.
  WE ALL NEED TO SMILE!!!!!!!

Thanks (again) to:  Jim Casey . . .


http://www.vermontdrums.com





 



Your future drumming career may LITERALLY hinge on  THIS NEXT IDEA.


END OF TEMPO DISPATCH #71 Sept 5, 2002






Copyright Bill Powelson 1994 all rights reserved.