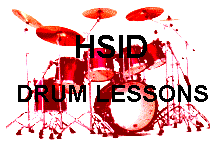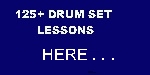 Lesson Menu #2 Intermediate & Advanced.
Lesson Menu #3
Advanced & Ultra-Advanced.
Lesson Menu #4
Text lessons: All levels.

PRODUCTS:

GET ALL THE PRODUCTS AT ONE LOW PRICE.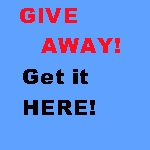 SURPRISES ABOUND . . .

For those with a bit of generosity in their soul.
CLICK HERE , to see what I mean.

Intermediate & Advanced
Drummers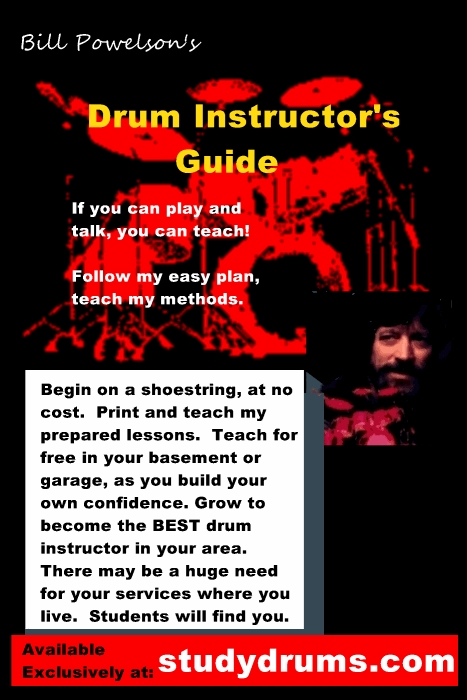 Your future is waiting.

ALL MUSICIANS
MASTER
ALL RHYTHM,

This FASCINATING WAY!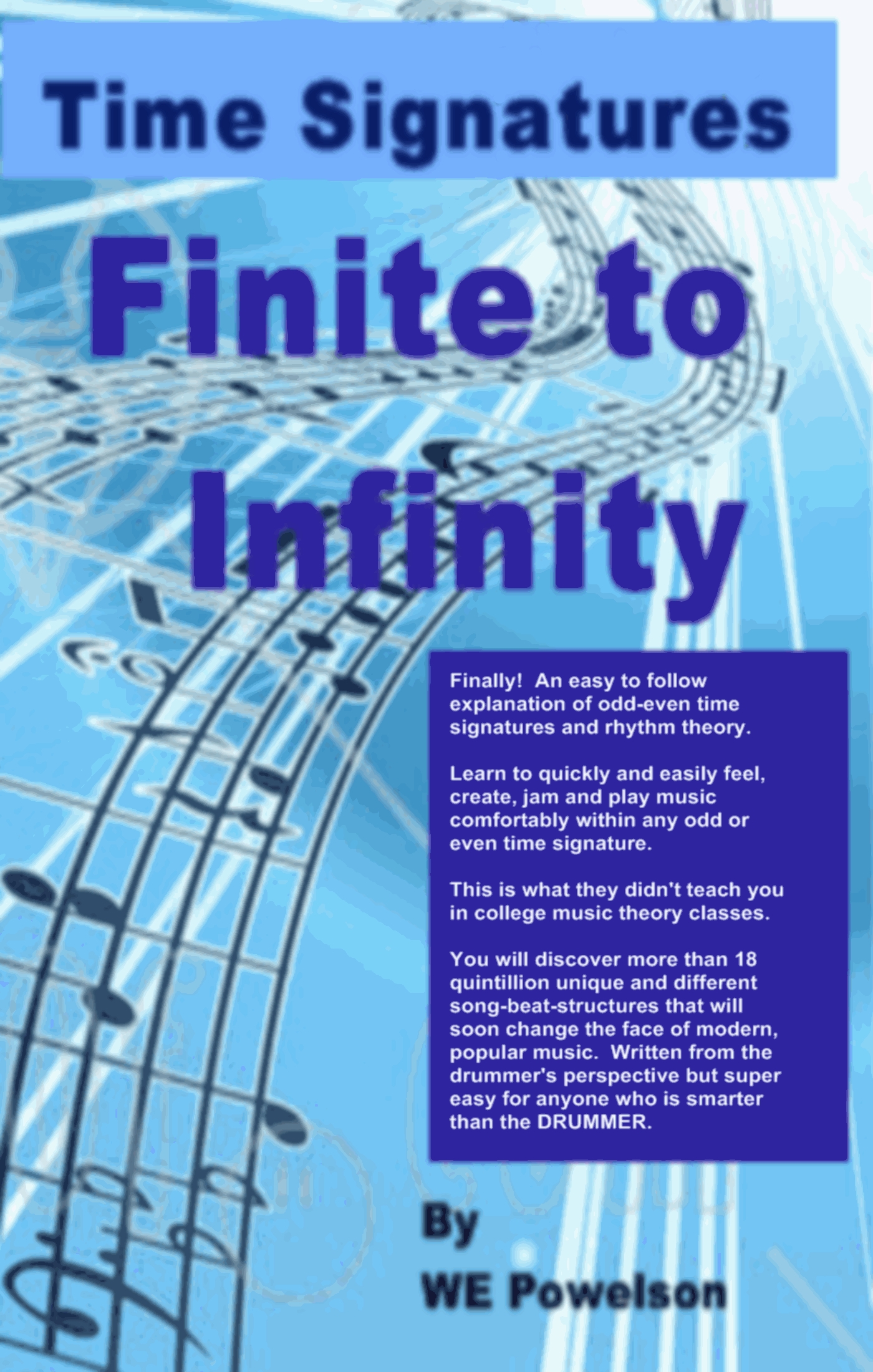 Discover the 'LOST KEY' for Unraveling ALL the mysteries of rhythm, and musical time.
This work is the crowning-achievement of my 50 year career, and it's my proudest accomplishment.
It contains the potential to help YOU change the face of modern music!
You'll love it! CLICK HERE to check it out completely!
You're in for a MAJOR surprise!

"PRE-SCHOOL DRUMMER?

YES!"
Can we teach rhythm
to pre-schoolers?

YES!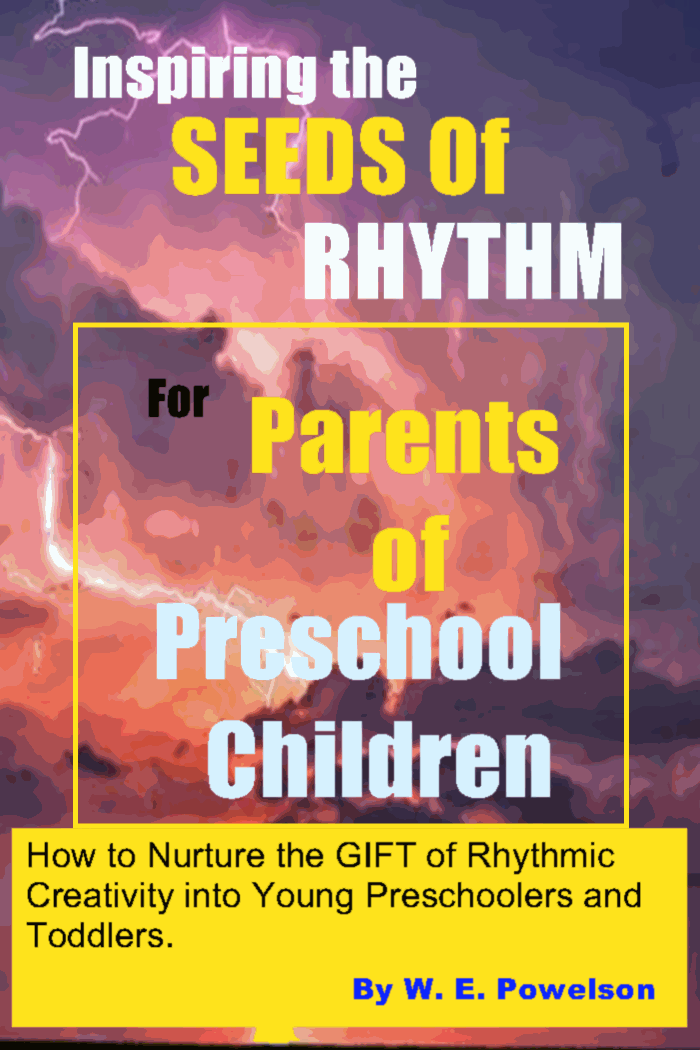 This is a very short course, designed to help adults plant the seeds of rhythm into children of nearly any age.

CLICK HERE

FREE ELECTRONIC BOOK BONUS (also included)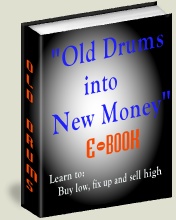 BUSINESS OPPORTUNITY:
MAKE BIG MONEY SELLING USED DRUMSETS!
* INSIDER HARDBALL-BUYING-TIPS AND SECRETS.
* UNIQUE RECOVERING SECRETS

Support this site and and gain an advetising bargain with the deal.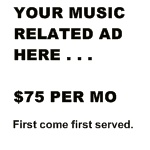 Place a permanent ad here.

GET ALL THE PRODUCTS AT ONE LOW PRICE.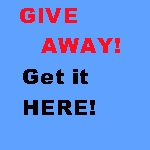 SURPRISES ABOUND . . .

For those with a bit of generosity in their soul.
CLICK HERE , to see what I mean.

Downloads * Drummers Trivia * Drummers Chat Rooms * Rudiments *
Digital Music * Knowledge Assessments * TD Archives * Drum Set Buyers Guide *
Bass-Player Jokes * Assembling a Drum Set * Parts of a Drum Set * About HSID * Video Troubleshooter

Bill Powelson's School of Drums




 Back to the Tempo Dispatch Archives  


ISSUE #63 \__\__\___THE____/__/__/ MAR 5, 2002
_______________TEMPO DISPATCH ___________
Newsletter For Drummers and Drumming Enthusiasts
Copyright Bill Powelson 2002 all rights reserved.
____________'IT'S ALL ABOUT DRUMS'_______
Tips * Tricks * Hints * Ads * Freebies * Lessons *
_________NOW more than 11,000 SUBSCRIBERS!__________

TABLE OF CONTENTS: What is in this issue?

FEATURE ARTICLE:

1. COMMON SENSE AND YOUR DRUMMING IMPROVEMENT
  

2. Humor:
        MORE . . . Musician Jokes.
3. Play the new DRUMMERS TRIVIA GAME.
http://members.aol.com/bpowelson/d-triv02.html

_____________________________________
|__________FEATURE ARTICLE___________|

COMMON SENSE AND YOUR DRUMMING IMPROVEMENT:

     The phone FINALLY rings . . . This new
band wants YOU to try out as their drummer.
It pays $100 per-night, five nights per week.

     CAN YOU CUT IT?  They tend to play a lot of
music that you don't especially care for . . . but
then, nearly all bands do that.  Don't they?

     Do you want the gig, or don't you?

I WANT YOU TO TAKE THAT GIG,
BUT FIRST . . . LET'S:

    *  Assess your drumming strengths and weaknesses.
 
    *  Find the weak area(s) where you need the most work?


    In this issue, I want to help you find your way,
no matter what may be your personal level of expertise. 
   
    FOR TOTAL BEGINNERS, it easy . . . Start at the top
of the 'LESSON MENU' at  and slowly work your way
through the free lessons.  (There's also more help for beginners
at the end of this article.)

BEGINNERS . . .
      I want to help you go pro! But first, get the  Basics!


    *** INTERMEDIATE STUDENTS ***
  
    Ask yourself these questions:

PROBLEM:
    1.  Do you routinely find yourself playing along with
the same types of recorded songs over and over, while using
generally the same beats and rolls in every song,
repeatedly? 
     THAT'S SO BORING, but all too common!

SOLUTION:
  
    	* Diversify your taste in recorded music.  Branch
out a little.  Play along with OTHER GENRES (styles) of music
in ALL tempos and beat-structures.
     As we begin to do this more and more, we'll accumulate
new knowledge in EVERY beat structure, rather than just
one or two.  As we increase our base-of-knowledge . . . we'll
soon realize that ALL music is fun and easy to play . . . and we'll
quickly emerge as far-more-versatile and respected, as
drummers. That's exactly what all the GOOD JOBS will require!

REMEMBER THIS ALWAYS . . .
     All bands want the same things from their drummer!

     *  They ALL want solid tempo and versatile technique,
no matter what the song-style or tempo.


     The bands we play with, rarely CARE if we like the music
they've chosen to play.  They play THEIR music, and if the
drummer tends to be weak on all but the 'fast' songs . . .

they'll probably be looking to replace their drummer, real
soon.  
     We drummers especially, (more than any other instrument)
need to be extrememly versatile in this dog-eat-dog atmosphere
that DEFINITELY exists out here in the real world, (beyond
our practice-room fantasies.) 
     Be ready for that!
    
    
     FOR EXAMPLE:  Are you aware that there are more than
4-BILLION 16th 4/4 variations?  How many of them can you play
right now? 

     The truth is, we only use about 80 of those potential
4-Billion possibilities . . . YET, if we only know a few
variations in that structure . . . it 'SHOULD' become our
focus of study . . .  Otherwise, we'll HATE those types
of songs when they come up . . . we'll sound weak, and
our band members will be giving us the old fish-eye.  Our
gig may be on the line at that precise moment in time.


     This lesson should help the paid students make
improvements with  16th 4/4 . . .

     The same is true with  BLUES BEAT style songs. 

     AND  SWING. 

     Do you know there are more than  5-QUINTILLION
3/4 WALTZ BEAT permutations (variations?)  How many can
you play right now?

     How well do you rate in ALL those areas?   Are you
as hot with those beats as you are with varied 8TH ROCK AND
QUARTER ROCK patterns?
    
     Go for it!  Be GREAT with EVERY TYPE SONG! :>)


     STUDY THE FOLLOWING LESSONS IN THE FOLLOWING ORDER . . .

    It's single, quickest, wildest 'KNOWLEDGE-PILL', you'll
ever swallow!  Be ready to call 911 . . . you may be
feeling a bit weak in the knees, once you have seen the coming
formulas that will take you far beyond where you are today.
     The good news is, there's only about 30-minutes of

study here . . . but it'll stay with you for life!
     FOLLOW THE LOGIC, AND IN THIS EXACT ORDER . . .
(I'll assume you already understand the COMPLETE note-value
system.  If not, study that lesson first:)

 NOTE VALUES. 


 PERMUTATIONS.

 WALTZ. 


 TIME SIGNATURES. 

     There's a humungous hidden moment of epiphany
hidden in those four lessons.  Dont' stop reading
and thinking until the mountain-of-knowledge falls on
you!


     Jam with recorded music EVERY DAY!  When
we are having fun, the learning-curve goes ballistic!

.......................................

_________________________________
|___________HUMOR? ______________|

-----------------------------
The Genie and an Ex-Wife
-----------------------------

A guy finds an old lamp on the beach. He rubs it and a genie
appears. The genie informs the guy that he will grant him
three wishes, but whatever he wishes for his ex-wife will get
TWICE AS MUCH.

"How about $1 million?" he asks. "Your ex-wife now has
$2 million in her account as well," says the genie.

"I've always wanted a Benz, how about that?," he
asks. "Your ex-wife now has two of those cars," says
the genie.

The guy stopped to think for a minute, knowing that
he had only one wish left.

"Could you beat me half to death?"

...............................................
(Stolen with great respect, from THE HUMOR PORT NEWSLETTER.)




 



 What you don't know is a killer.  Take a minute to actually SEE your
future.    Reach DRUMMING GURU STATIS in under 2hours, here.




END OF TEMPO DISPATCH #63 MAR 5, 2002





Copyright Bill Powelson 1994 all rights reserved.