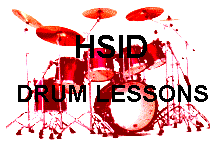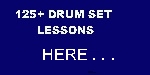 Lesson Menu #2 Intermediate & Advanced.
Lesson Menu #3
Advanced & Ultra-Advanced.
Lesson Menu #4
Text lessons: All levels.

PRODUCTS:

GET ALL THE PRODUCTS AT ONE LOW PRICE.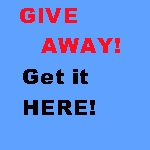 SURPRISES ABOUND . . .

For those with a bit of generosity in their soul.
CLICK HERE , to see what I mean.

Intermediate & Advanced
Drummers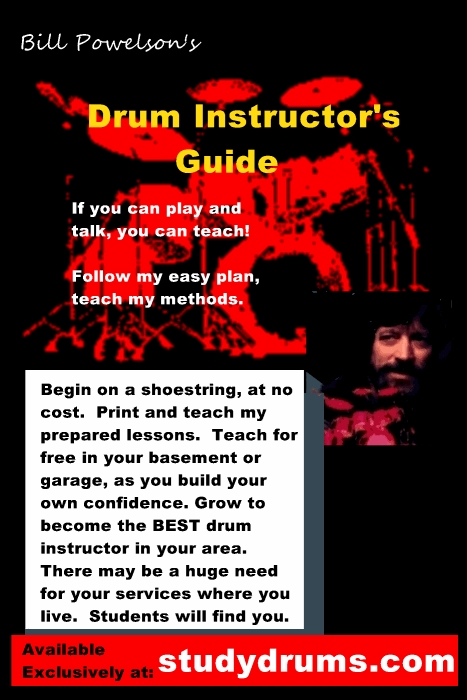 Your future is waiting.

ALL MUSICIANS
MASTER
ALL RHYTHM,

This FASCINATING WAY!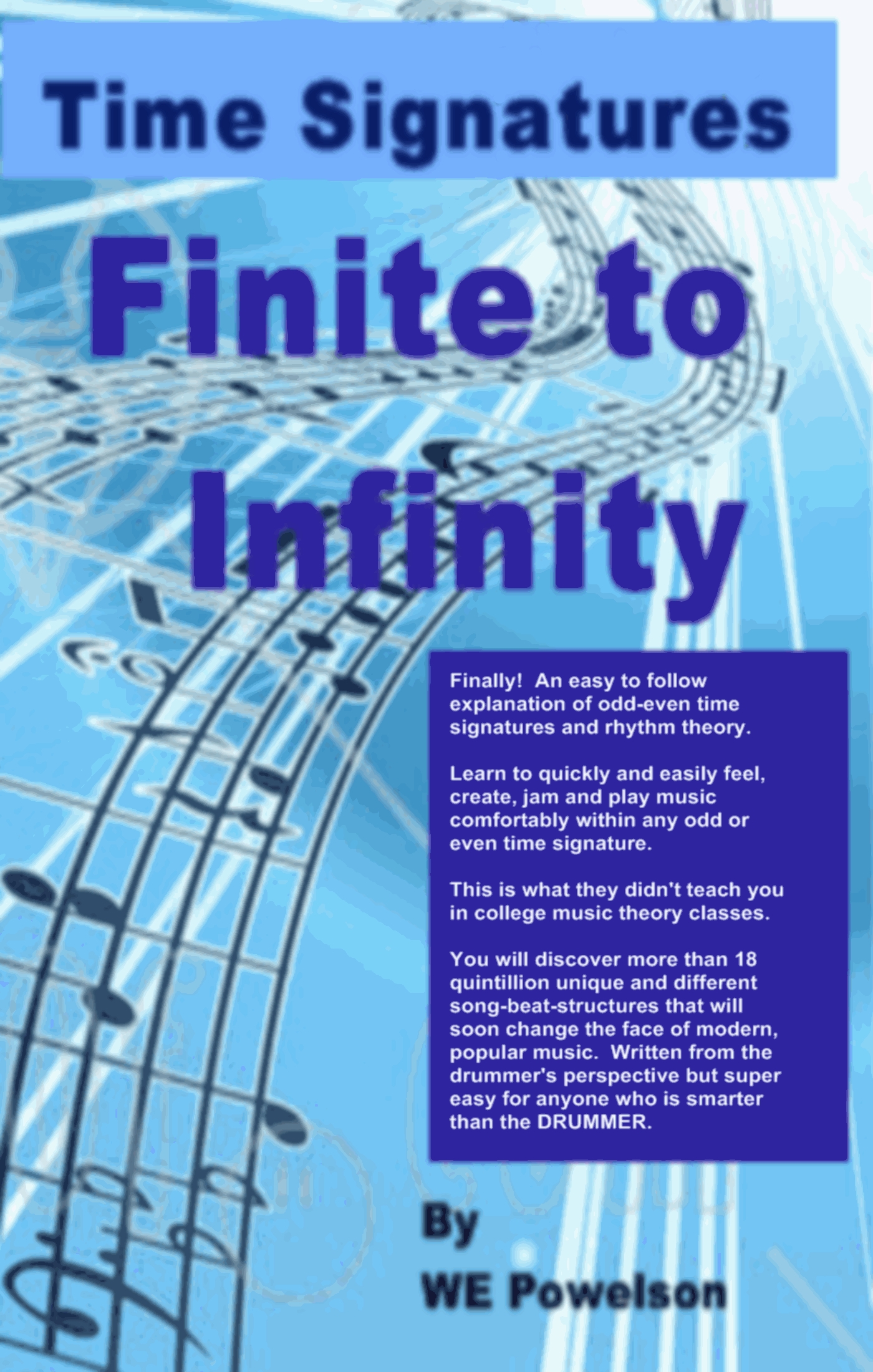 Discover the 'LOST KEY' for Unraveling ALL the mysteries of rhythm, and musical time.
This work is the crowning-achievement of my 50 year career, and it's my proudest accomplishment.
It contains the potential to help YOU change the face of modern music!
You'll love it! CLICK HERE to check it out completely!
You're in for a MAJOR surprise!

"PRE-SCHOOL DRUMMER?

YES!"
Can we teach rhythm
to pre-schoolers?

YES!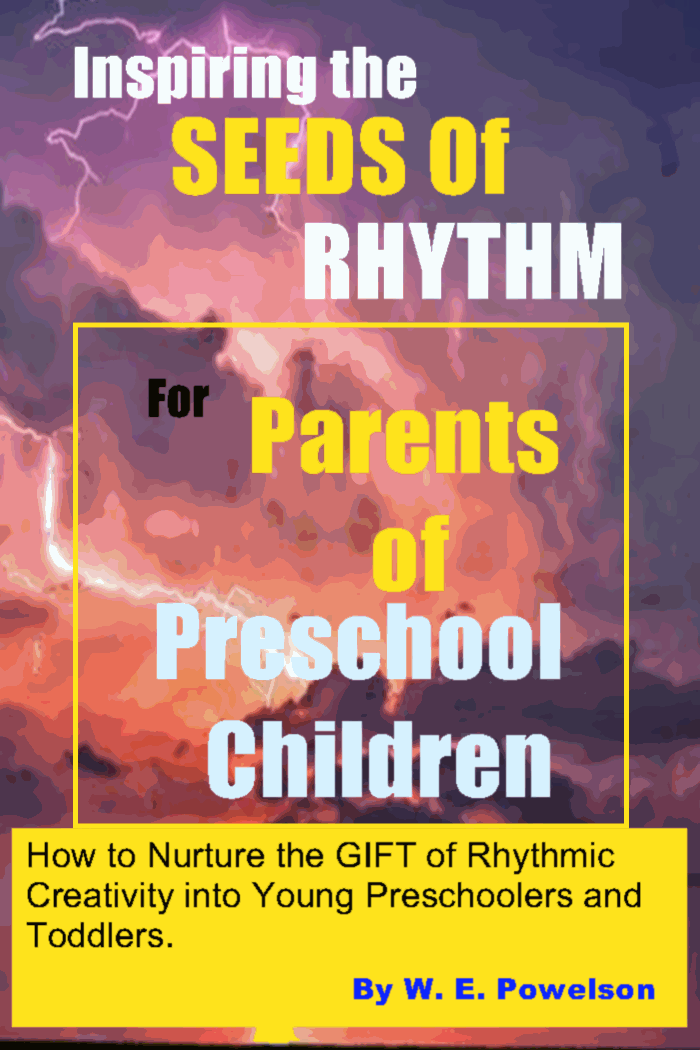 This is a very short course, designed to help adults plant the seeds of rhythm into children of nearly any age.

CLICK HERE

FREE ELECTRONIC BOOK BONUS (also included)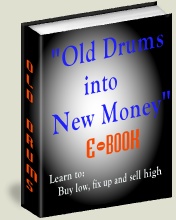 BUSINESS OPPORTUNITY:
MAKE BIG MONEY SELLING USED DRUMSETS!
* INSIDER HARDBALL-BUYING-TIPS AND SECRETS.
* UNIQUE RECOVERING SECRETS

Support this site and and gain an advetising bargain with the deal.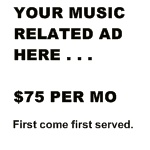 Place a permanent ad here.

GET ALL THE PRODUCTS AT ONE LOW PRICE.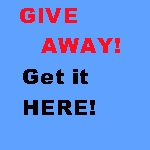 SURPRISES ABOUND . . .

For those with a bit of generosity in their soul.
CLICK HERE , to see what I mean.

Downloads * Drummers Trivia * Drummers Chat Rooms * Rudiments *
Digital Music * Knowledge Assessments * TD Archives * Drum Set Buyers Guide *
Bass-Player Jokes * Assembling a Drum Set * Parts of a Drum Set * About HSID * Video Troubleshooter

Bill Powelson's School of Drums




 Back to the Tempo Dispatch Archives  


ISSUE #61 \__\__\___THE____/__/__/ Jan 5, 2002
_______________TEMPO DISPATCH ___________
Newsletter For Drummers and Drumming Enthusiasts
Copyright Bill Powelson 2001 all rights reserved.
____________'IT'S ALL ABOUT DRUMS'_______
Tips * Tricks * Hints * Ads * Freebies * Lessons *
_________NOW OVER 9,800 SUBSCRIBERS!__________

TABLE OF CONTENTS: What is in this issue?

FEATURE ARTICLE:

1. COORDINATION SOLUTIONS
  
2. Humor: WISE BLONDE JOKE . . .

3. Play the new DRUMMERS TRIVIA GAME.
http://members.aol.com/bpowelson/d-triv02.html

_____________________________________
|__________FEATURE ARTICLE___________|

     COORDINATION SOLUTIONS (DRUMSET)

THE MOST COMMON QUESTION ASKED BY BEGINNING
STUDENTS OF DRUMSET . . .

    "How do I get my feet and hands to
work together as a team?"
  
HERE'S HOW . . .

  As you practice beats and fills . . .

  *  Keep the hi-hat closed at first.  Don't
try to use the left-foot until the right-foot
is up and running . . .
     Go to work on that right-foot, this way . . .
  
#1.   Slow down, down, down, down, down . . .
   As we are learning any new beat or roll . . . it's
all too common to try to go too fast too soon . . .
The hands and feet lag behind the brain and
chaos occurs . . . we feel unsuccessful and we
give up.

   *  Don't allow that to happen!

   The trick FOR ALL OF US (I have to MAKE myself do this
too, even after 50 years.)  Keep it SLOW & STEADY . . .
VERY, VERY slow at first . . . repeat, repeat, repeat. 

   As the hands and feet get the message coming from
the brain . . . everything will increase speed on its
own . . . after enough SLOW repetitions . . .
   Most beats need to be repeated VERY slowly at least 100 to
150 times . . . before the speed (we are hearing in our head)
will begin to occur 'naturally' in our hands and feet . . .

   BUT (Think about this) . . . the average song of
3 minutes will INCLUDE about 100 reps of a beat!

   THINK ABOUT THAT!!!

   And that brings us to SOLUTION #2 . . .

#2.  FIND JUST THE RIGHT SONG . . .
     It needs to be a SLOW to MEDIUM, favorite song that
we love.  
     If we'll play along with THAT SONG several times,
enjoying the experience . . . our speed will increase
naturally and then we'll be ready to tackle another
favorite song that's a little faster, VERY SOON. 
     MUSIC IS THE KEY TO THE WHOLE THING!
     We increase our speed slowly by eliminating
the BOREDOM & FRUSTRATION that comes with
dry (musicless) practice.

SO . . . MEMORIZEE THE BASIC DANCE BEATS . . .



THEN . . .
     Go over all your tapes and CDs . . . looking for
just the right song(s) and jump in playing along
. . . even if your foot is in lala-land.
It'll wake-up after a few times through . . .

     Find a slow to medium song . . . and play along
with the whole song, SEVERAL times, all the way through.

     I think you'll discover by the 3rd or 4th run-through that
all the limbs will be working in concert with each other. 
     Within an hour . . . you'll probably be playing
along with more than half the songs on nearly ANY CD.

     FOCUS ONLY ON POSITIVES . . . STAY AWAY FROM
ANY SONG THAT'S TOO HARD (or too fast) FOR YOU RIGHT NOW. 
You'll probably find those same songs easy-to-play by
next week.

ONE MORE THOUGHT . . .
     Don't worry if the foot isn't cooperating 100% as you
want it to . . .
     JUST KEEP PLAYING . . . pat your foot in-time
when you can . . . enjoy what you are doing, while keeping
a watchful eye on that poor, misguided foot . . .
     In a very short while . . . the foot will get
the message and start performing as you tell it . . . 
     This works EVERY TIME!
 
     Persistence, determination and FUN are the secret
ingredients to success.  (FUN is the most important of the
three.)  Don't be too hard on yourself . . . WE ALL
EXPERIENCE THESE SAME PROBLEMS . . . especially in the
beginning.
     BUT . . . HERE'S THE GOOD NEWS!
     With EVERY new beat or roll we master . . .
all the remaining beats (and rolls) get easier and easier . . .

     Good luck!
     Jam with recordings EVERY day . . . in the car
or wherever you are. 
     If you hear a song playing . . . Analyze it,
then play it . . .
     Listen for:
   
     a. TEMPO (speed)
     b. BASIC DANCEBEAT CATEGORY . . . Tempo will usually
help tell us the category . . . THEN,
     c. JUMP IN PLAYING . . . tap on the dashboard or
the 'knees' and play, play, play . . . song after song.
The coordination will come much quicker and with a lot less
frustration if we'll make a habit of doing this EVERY TIME
WE HEAR A SONG PLAYING.

     Happy drumming!
________________________________
|___________HUMOR? ______________|

WISE BLONDE JOKE . . .

Two bored casino dealers were waiting at a craps table.


A very attractive blonde woman arrived and bet twenty thousand dollars
on a single roll of the dice. She said, "I hope you don't mind, but I
feel much luckier when I'm completely nude." With that she stripped from
her neck down, rolled the dice and yelled, "Mama needs new clothes!"


Then she hollered..."YES! YES! I WON! I WON!" She jumped up and down
and hugged each of the dealers. With that she picked up all the money and
clothes and quickly departed.


The dealers just stared at each other dumbfounded. Finally, one of
them asked, "What did she roll?" The other answered, "I thought YOU were
watching!"


Moral: Not all blondes are dumb, but most men are perverts
_____________________________________________
Thanks again to my old friend Jim Casey at

Vermont Drums Online: www.vermontdrums.com
_____________________________________________





 



 This topic could save you YEARS and offer you renewed ambition.




END OF TEMPO DISPATCH #61 JAN 5, 2002



 

Copyright Bill Powelson 1994 all rights reserved.