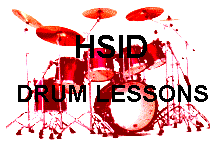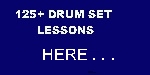 Lesson Menu #2 Intermediate & Advanced.
Lesson Menu #3
Advanced & Ultra-Advanced.
Lesson Menu #4
Text lessons: All levels.

PRODUCTS:

GET ALL THE PRODUCTS AT ONE LOW PRICE.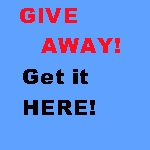 SURPRISES ABOUND . . .

For those with a bit of generosity in their soul.
CLICK HERE , to see what I mean.

Intermediate & Advanced
Drummers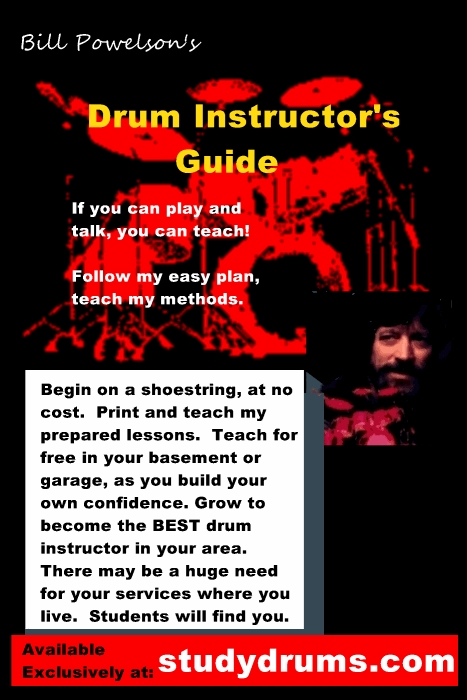 Your future is waiting.

ALL MUSICIANS
MASTER
ALL RHYTHM,

This FASCINATING WAY!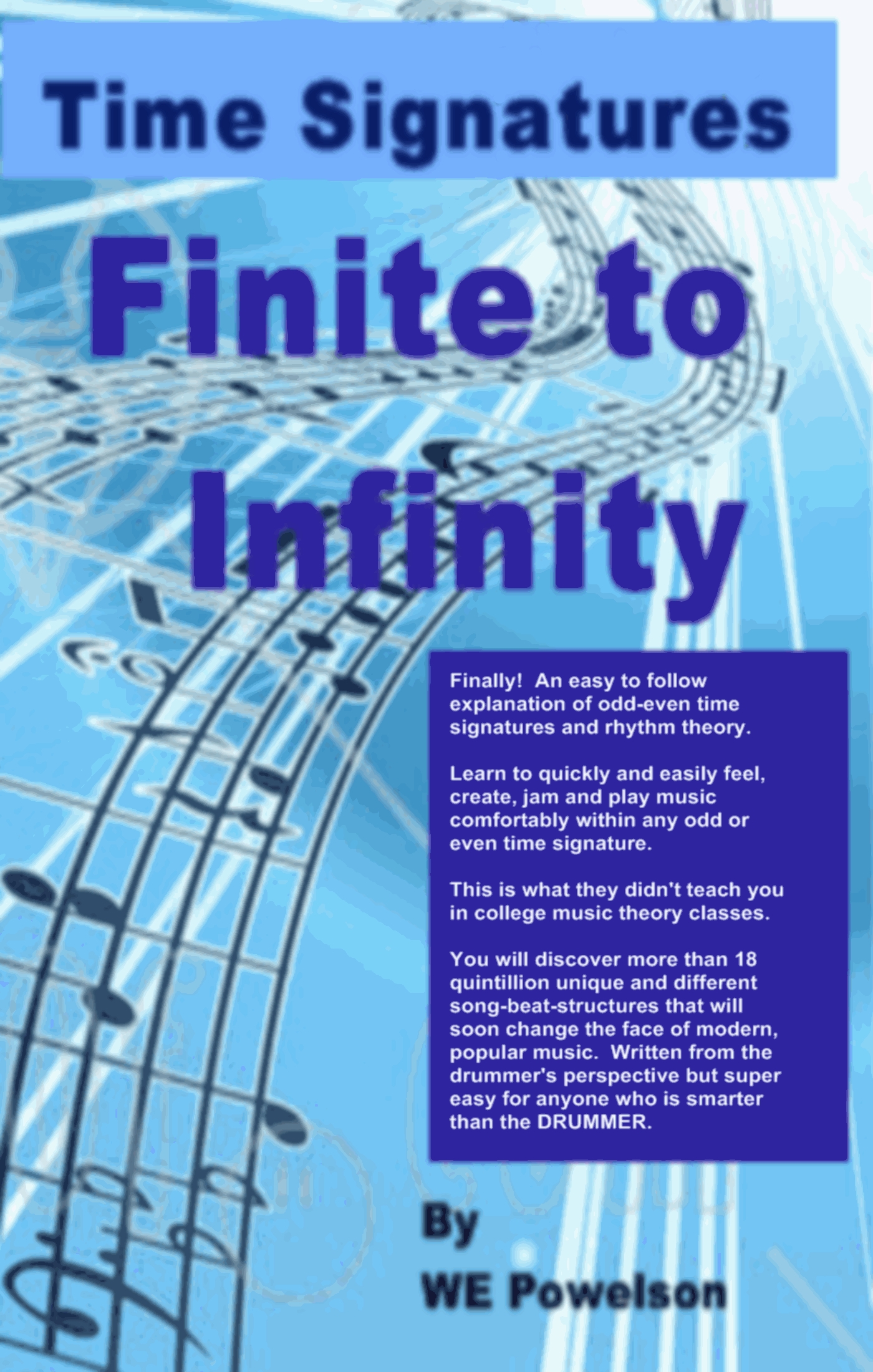 Discover the 'LOST KEY' for Unraveling ALL the mysteries of rhythm, and musical time.
This work is the crowning-achievement of my 50 year career, and it's my proudest accomplishment.
It contains the potential to help YOU change the face of modern music!
You'll love it! CLICK HERE to check it out completely!
You're in for a MAJOR surprise!

"PRE-SCHOOL DRUMMER?

YES!"
Can we teach rhythm
to pre-schoolers?

YES!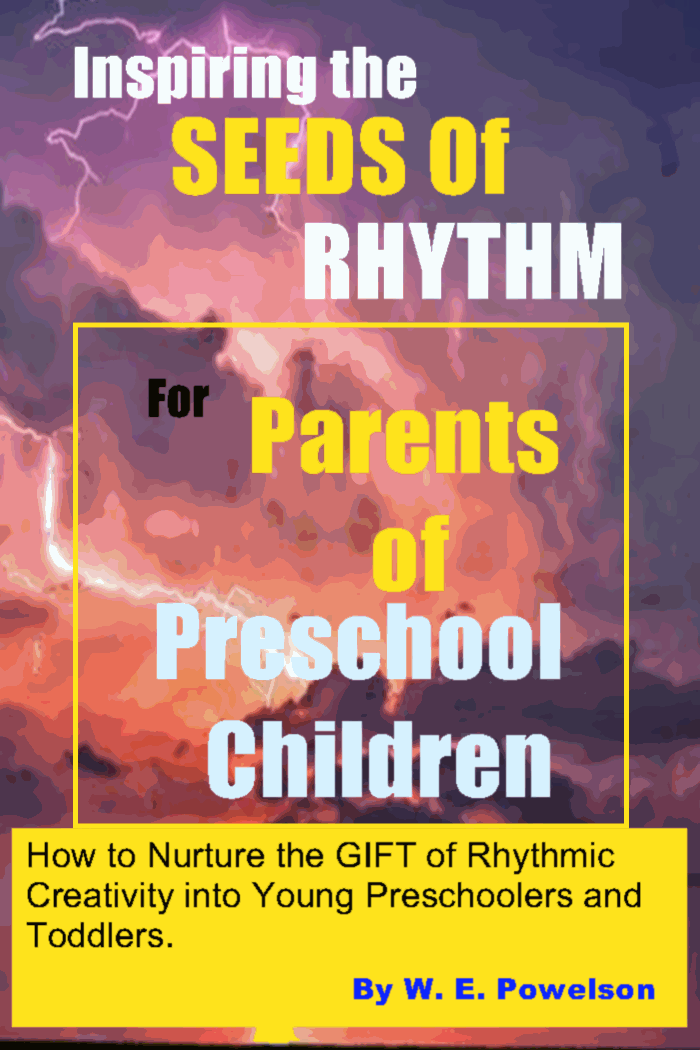 This is a very short course, designed to help adults plant the seeds of rhythm into children of nearly any age.

CLICK HERE

FREE ELECTRONIC BOOK BONUS (also included)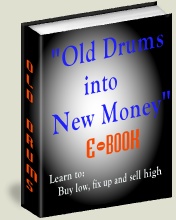 BUSINESS OPPORTUNITY:
MAKE BIG MONEY SELLING USED DRUMSETS!
* INSIDER HARDBALL-BUYING-TIPS AND SECRETS.
* UNIQUE RECOVERING SECRETS

Support this site and and gain an advetising bargain with the deal.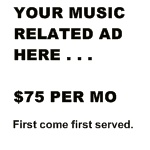 Place a permanent ad here.

GET ALL THE PRODUCTS AT ONE LOW PRICE.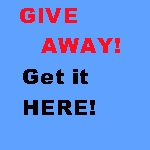 SURPRISES ABOUND . . .

For those with a bit of generosity in their soul.
CLICK HERE , to see what I mean.

Downloads * Drummers Trivia * Drummers Chat Rooms * Rudiments *
Digital Music * Knowledge Assessments * TD Archives * Drum Set Buyers Guide *
Bass-Player Jokes * Assembling a Drum Set * Parts of a Drum Set * About HSID * Video Troubleshooter

Bill Powelson's School of Drums




 Back to the Tempo Dispatch Archives  


ISSUE #56 \__\__\___THE____/__/__/ Aug 5, 2001
_______________TEMPO DISPATCH ___________
Newsletter For Drummers and Drumming Enthusiasts
Copyright Bill Powelson 2001 all rights reserved.
____________'IT'S ALL ABOUT DRUMS'_______
Tips * Tricks * Hints * Ads * Freebies * Lessons *
_________NOW OVER 7,8OO SUBSCRIBERS!__________

TABLE OF CONTENTS: What is in this issue?

FEATURE ARTICLE:

1.  5 Tips to Help Maintain and Re-ignite
   Your Passion for Drums. 

2. Humor? 
           GREAT TRUTHS ABOUT LIFE THAT
           LITTLE CHILDREN HAVE LEARNED:

3. Play the new DRUMMERS TRIVIA GAME.
http://members.aol.com/bpowelson/d-triv02.html

_____________________________________
|__________FEATURE ARTICLE___________|

5 Tips for Maintaining your PASSION-4-DRUMS.



     MUSICAL VARIETY IS THE KEY TO SUCCESS!
Listen to more music. Strive towards playing
along with increased varieties of music.
 
TIP #1:
    If you truly love music and if you habitually
play along with EVERY song you hear, (whether you are
behind a drumset or not), you'll NEVER lose interest.
    New music will help keep alive your passion for
playing.

     Get into the habit imagining a drumset in front
of you, then analyzing . . . and playing
along with EVERY song you hear, when away from the drumset,
no matter where you may be.  It must become an
instinctive habit or something you'll do almost without
thinking.  Once that habit has been formed . . . you'll
never really stop playing drums . . . ever. 
    Even if we aren't behind the drums a on a daily
basis . . . we're still learning . . . everywhere we go.

    LEARN TO DO THAT HERE:


 Basic Dancebeats

TIP #2:
    ALSO . . . Continually learn new techniques.
    Sometimes new beats and rolls can be somewhat boring
to learn . . . and this may cause us to lose interest.
   BUT, if we don't constantly learn new techniques, we won't
grow.  If we aren't growing . . . the passion tends to
fizzle.
    Always try to have at least one NEW technique
memorized and on the front-burner of your mind, for
'simulated' practice while away from the drumset.
'SIMULATED' PRACTICE:
    Imagine the various drum parts . . . and
go through the moves, all day long, every day . . .
no matter where you are or what you are doing.

    Then . . . as each new beat and roll
pattern begins to develop in simulated practice,
you'll be anxious to get behind the kit. You'll
be more than eager to make those new ideas 'scream'
as you jam with the new tapes and CDs you've just
added to your music collection!

    * Nearly any RUDIMENT is a potential FILL!  Convert
nearly any rudiment into a half-bar fill, if that
rudiment is based on multiples of 2.  These fills
may easily be adapted to 16th 4/4, 8th 4/4, Shuffle
or Quarter 4/4. 
    Rudiments based on multiples of 3, may work best
with Blues Beats.

    Then . . . there are unlimited repetitions, and cross-over
possibilities with each as well.

    Students may visit the following lessons:
 Understanding Rudiments

AND . . .

 Better Drum Fills

TIP #3:
    Maybe you've reached a level where
it's time to get yourself into a band of some kind!
    There eventually may be a time when jamming alone
in the garage, just isn't exciting enough. 
    Here's a simple cure for that too . . .

    *  Locate a few friends who play other instruments
and try to get them together for a jam. 

TIP #4:
    TOTAL AWARENESS of permutations and time signature
theories will flood your imagination with literally
BILLIONS of new beat patterns.  This knowledge will
help lift you out of the common ruts that often occur.
Many new beat patterns will occur spontaneously within
your jams, AFTER this material has been digested. 
    There will be NO RUT when we can visualize BILLIONS
of patterns that need to be added to our arsenal of
jamming routines.  See this . . .

 Unlocking the Mysteries of Rhythm.


_________________________________
|___________HUMOR? _____________|

GREAT TRUTHS ABOUT LIFE THAT
LITTLE CHILDREN HAVE LEARNED:

1. No matter how hard you try, you
can't baptize cats!
2. When your Mom is mad at your Dad,
don't let her brush your hair.
3. If your sister hits you, don't
hit her back. They always catch
the second person.
4. Never ask your 3-year old brother
to hold a tomato.
5. You can't trust dogs to watch your food.
6. Reading what people write on desks
can teach you a lot.
7. Don't sneeze when someone is cutting
your hair.
8. Puppies still have bad breath, even
after eating a tic-tac.
9. Never hold a Dust Buster and a cat
at the same time.
10. School lunches stick to the wall.
11. You can't hide a piece of broccoli
in a glass of milk.
12. Don't wear polka dot underwear under
white shorts.
13. The best place to be when you're sad
is Grandma's lap.

     ..................................

     Thanks again, to Jim Casey at 'Vermont Drums Online'
for the above.  If you are looking for a drumset
bargain, check out Jims' web site.




 



Your future career may LITERALLY depend on  THIS IDEA.




END OF TEMPO DISPATCH #56 Aug 5, 2001





Copyright Bill Powelson 1994 all rights reserved.