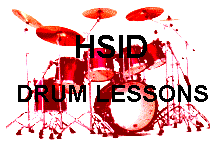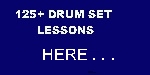 Lesson Menu #2 Intermediate & Advanced.
Lesson Menu #3
Advanced & Ultra-Advanced.
Lesson Menu #4
Text lessons: All levels.

PRODUCTS:

GET ALL THE PRODUCTS AT ONE LOW PRICE.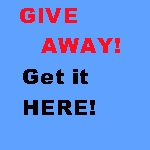 SURPRISES ABOUND . . .

For those with a bit of generosity in their soul.
CLICK HERE , to see what I mean.

Intermediate & Advanced
Drummers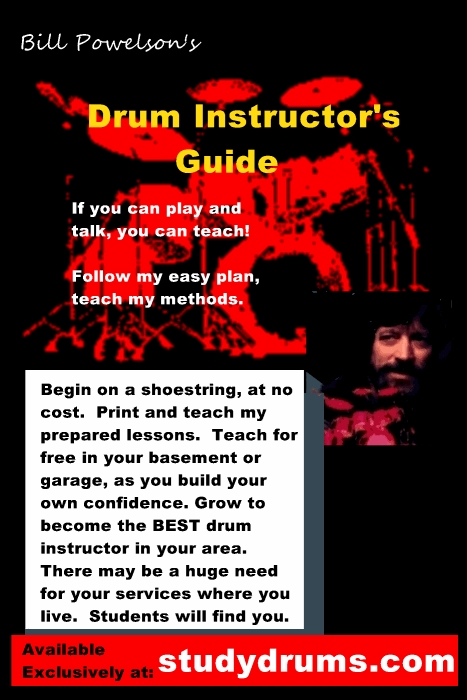 Your future is waiting.

ALL MUSICIANS
MASTER
ALL RHYTHM,

This FASCINATING WAY!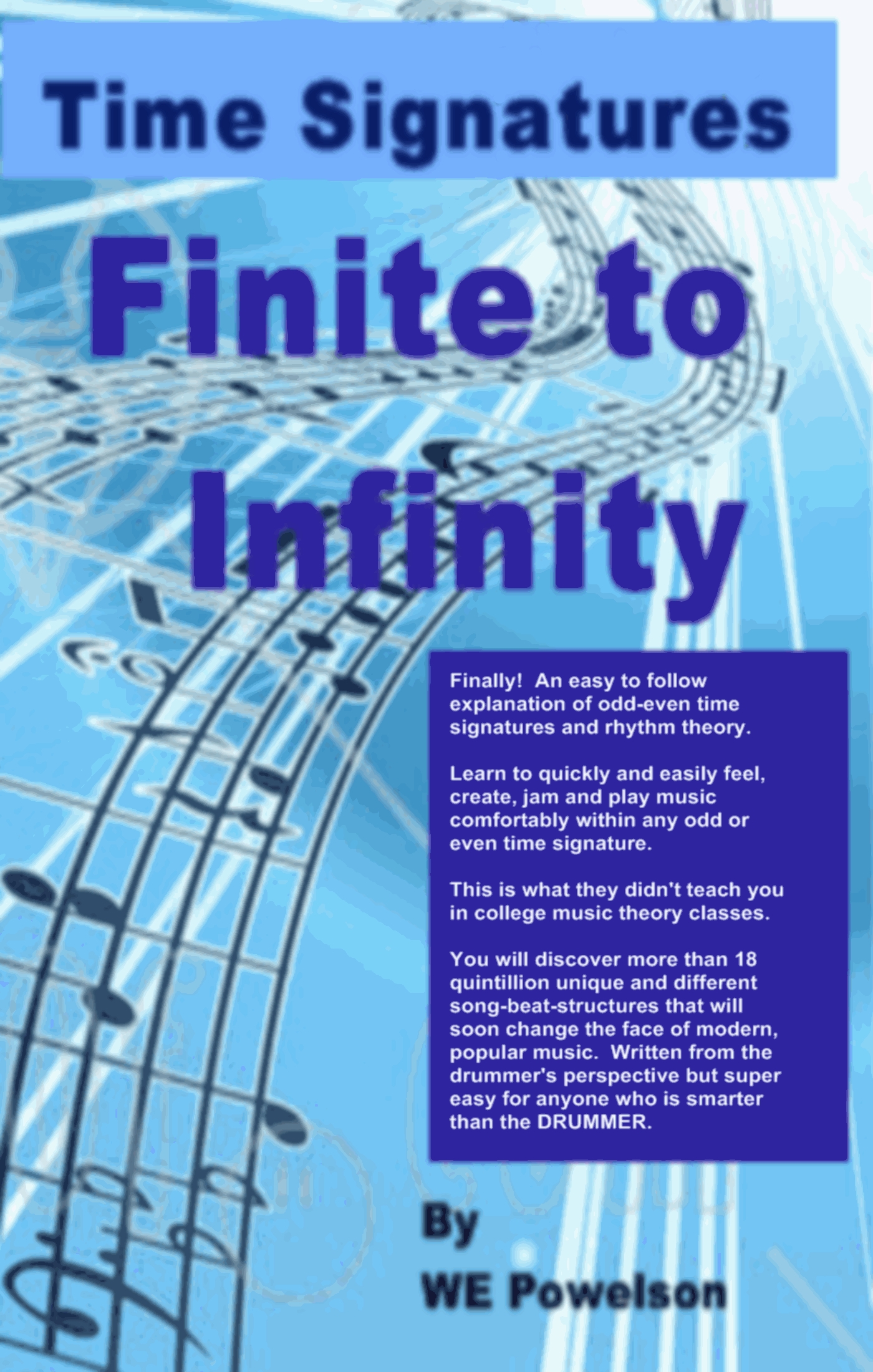 Discover the 'LOST KEY' for Unraveling ALL the mysteries of rhythm, and musical time.
This work is the crowning-achievement of my 50 year career, and it's my proudest accomplishment.
It contains the potential to help YOU change the face of modern music!
You'll love it! CLICK HERE to check it out completely!
You're in for a MAJOR surprise!

"PRE-SCHOOL DRUMMER?

YES!"
Can we teach rhythm
to pre-schoolers?

YES!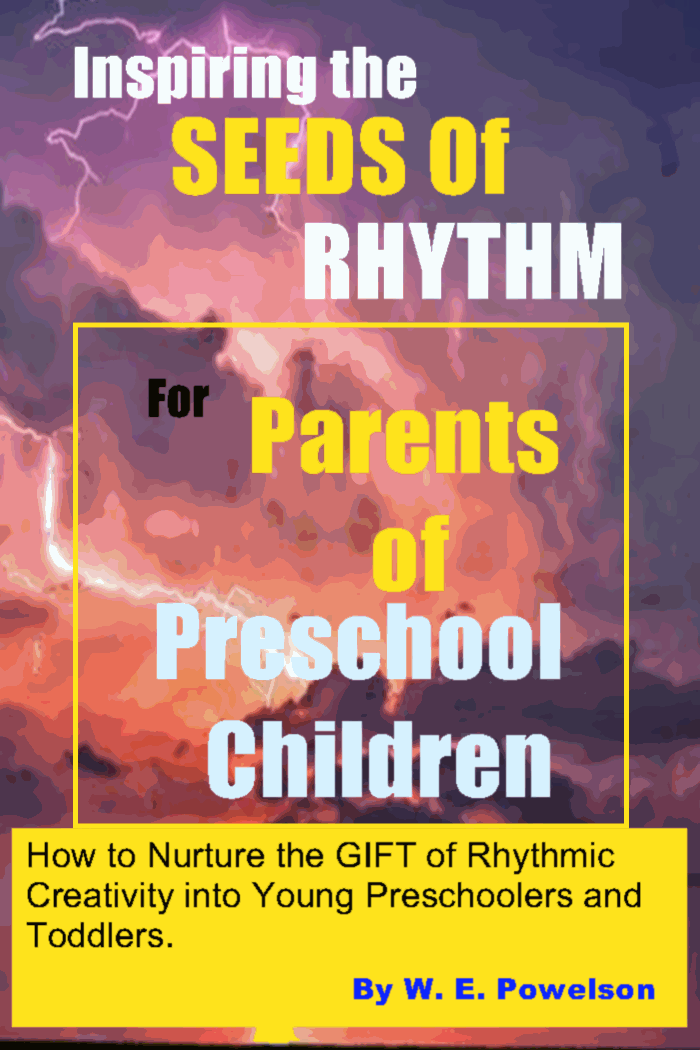 This is a very short course, designed to help adults plant the seeds of rhythm into children of nearly any age.

CLICK HERE

FREE ELECTRONIC BOOK BONUS (also included)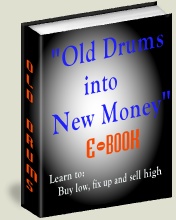 BUSINESS OPPORTUNITY:
MAKE BIG MONEY SELLING USED DRUMSETS!
* INSIDER HARDBALL-BUYING-TIPS AND SECRETS.
* UNIQUE RECOVERING SECRETS

Support this site and and gain an advetising bargain with the deal.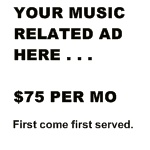 Place a permanent ad here.

GET ALL THE PRODUCTS AT ONE LOW PRICE.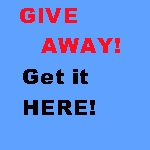 SURPRISES ABOUND . . .

For those with a bit of generosity in their soul.
CLICK HERE , to see what I mean.

Downloads * Drummers Trivia * Drummers Chat Rooms * Rudiments *
Digital Music * Knowledge Assessments * TD Archives * Drum Set Buyers Guide *
Bass-Player Jokes * Assembling a Drum Set * Parts of a Drum Set * About HSID * Video Troubleshooter

Bill Powelson's School of Drums




 Back to the Tempo Dispatch Archives  


ISSUE #42 \__\__\___THE____/__/__/ Jun 5, 2000
_____________TEMPO DISPATCH _____________
Newsletter For Drummers and Drumming Enthusiasts
Copyright Bill Powelson 2000 all rights reserved.
____________'IT'S ALL ABOUT DRUMS'__________
Tips * Tricks * Hints * Ads * Freebies * Lessons *
_________NOW 3,100+ SUBSCRIBERS!___________

TABLE OF CONTENTS: What is in this issue?

1. Feature Article: 
    Applying Rudiments at the Drum Set

2. Funny thoughts . . .


FREE DRUMMERS NEWSLETTER
From:  Bill Powelson's
HOMESTUDY INSTITUTE OF DRUMS
On The Web * Where Beginners Learn FREE

E-MAIL: drums01@att.net

|__________FEATURE ARTICLE___________|

APPLYING RUDIMENTS AT THE DRUMSET WHILE
JAMMING WITH OUR FAVORITE POP RECORDINGS.


WHAT IS A RUDIMENT?
     If you don't know . . . visit the following page
before reading another word:

 Rudiment Explanation 

IF YOU DO KNOW WHAT A RUDIMENT IS,
PLEASE CONSIDER THIS . . .

    "Rudiments are useless unless we can find ways
to adapt them to the music we play.  The rudiments
ALONE, can be a major drag"! 

WARNING . . .!!!
    You may have UNKNOWINGLY glazed-over a
MUCH BETTER approach to rudiment study . . .

 
HERE'S A QUESTION . . .
(Designed to activate your own logic)

    "What good are rudiments if you can't,
won't or don't know how to adapt them to
the music as you jam"?

    The objective should be to ADD rudimental
techniques to our routine playing style! 

     Isn't it? . . .

     Don't you want to USE rudiments routinely as you
jam and play along with 'live' or recorded music?

    READ THAT AGAIN!

    This practical philosophy provides what I
call a 'DOUBLE WHAMMY' learning experience. 
Not only will you MASTER the important rudiments
by using them routinely  . . . You'll also discover
millions of ways to vary them as you PLAY, and you'll
have a ton of fun as you learn. 

    'PLAY' is the keyword here.  Please notice, I didn't
say WORK!  :>)
 
......................................................
   "Innovative imagination is the key to both fun
and intellectual progress".
......................................................

    FUN . .  should be a MAJOR consideration!  If
you aren't discovering the fun elements as you study
drumming . . . you are missing a great chance to do
so right here!

    Begin on the following page (BELOW) and follow
ALL the hyperlinks within EACH page.  These unique
lessons contain midi sound.  You'll hear and see
exactly what you are wanting and needing to add to
your drumming trick bag. 

    Trust me on this!  There's a method to the
madness . . . and that method may shave
years-of-tears off your learning experience.

GET THE RUDIMENT STUDIES
YOU ARE LOOKING
FOR . . . RIGHT HERE:

 Rudiment Explanation 

FOLLOW THE HYPERLINKS
ON EACH OF THE ABOVE LESSONS!
(EACH HYPERLINK LEADS TO MORE . . .)

      "Keep both eyes on the ultimate goal . . .
then determine the straightest path to that end".

    Nearly all the rudiments may be adapted to
your playing style in ways very 'similar' to those
described in the above lessons.  

    MASTER AND USE THOSE BUILDING-BLOCK rudiments
every day . . . as you enjoy jamming with REAL recorded
music. 

LATER . . .
    You will discover that most of the remaining rudiments
may be mastered (and applied to your style) in only a few hours,
BECAUSE, they are ALL based on the same general concepts.


THE SECRET (to all fills)

    * Learn to play short (half bar) fills,
first. 

    With that in your pocket . . .
it will be easy to extend the fills to
ANY length WITHOUT ERRORS.

    The KEY to the whole thing is the BASS DRUM.

EXAMPLE:

    MASTER DOUBLE STROKES, THIS FUN AND EASY WAY!

    Be able to play the following exercise in your
sleep and build it to outrageous, blinding speeds!

    Most students will need around 3 hours of
repetition with the exercise below . . . before
a 'personal best' will be realized.

    THE GOOD NEWS!  All previous attention to this
roll will count towards the needed 3 hours.
Many advanced students may have the exercise (below)
to top-speed in 10 minutes or less.

    At any rate . . . don't settle for 'sloppy and
slow' on this one.  What you are learning here will
take you to higher plateaus!  Do your homework
and you'll soon enjoy additional POLISH with
ALL your playing techniques.  Double strokes are
#1 on the N.A.R.D. rudiment charts for a reason. 
They are VERY, VERY important towards the development
of professional polish and finesse!

MASTER THIS, FIRST:

R=RIGHT
L=LEFT
B=BASS

R R L L R R L L  <---Both hands/any drum
B                <---Bass


    Be sure to play the bass note at the
correct time, with each repetition.

    Repeat indefinitely! Do not stop
at the end.  Start over immediately and
continue to repeat until the dog
begins to growl, bark, show teeth and cast
ominous glances your way!  :>)

    Learn to think in groups of four notes.

    It's hard to keep track of eight notes,
but it's easy to play four!  Two sets of four,
equal eight!  (Whoa!  Heavy math!) Place a
bass drum note with the first of every two-groups
of four.  Repeat, repeat, repeat . . . and build
to blinding speeds.

THEN LEARN TO APPLY IT . . .

    As you play a basic beat . . . (8th rock,
shuffle or swing . . . ) Start your fill
on a bass (downbeat) . . . and get back to the hat
on the next bass (downbeat.)

    To EXTEND your fills to indefinite lengths:

    * Come back to the hat on ANY BASS (downbeat.)
    * You'll be playing the same pattern over and over. 
    * Go to any drum with it! 
    * Find the million-and-one ways it may be varied
around the kit. 
    * Attach it to the music anywhere/anytime you choose. 

*** VERY IMPORTANT ***

* YOUR BASS WILL REMAIN CONSTANT . . . WHETHER
YOU ARE PLAYING THE BEAT OR THE ROLL.


* READ THAT AGAIN!  THINK ABOUT IT!!
This way, the foot does the counting
and the fill becomes a thing you 'feel'
without actually counting.

    It will work every time, with only
a few minor exceptions!

.......................

EXCEPTIONS . . .
    It's only minutely different when playing
quarter rock 4/4  (Basic Dance Beat #5) and/or
16th rock 4/4 (BDB #1.)

EXAMPLE:  (Double Strokes & Quarter Rock 4/4)
    If you are using doubles with QUARTER ROCK
you'll have more bass notes and the roll
becomes an 8th-note roll, though it will 'seem'
very fast because Quarter rock 4/4 tempos are usually
extremely fast.

R R L L (TOTAL = 4, FOR EVERY BASS)
B

EXAMPLE:  (32nd Double Strokes & Sixteenth Rock 4/4)

    If you are playing doubles with 16TH ROCK (BDB #1)
you'll have less bass notes and the double stroke fill
will actually be 32nd notes.

R R L L R R L L  R R L L R R L L  (TOTAL = 16, FOR EVERY BASS)
B
    
     Be able to attach the above (half bar) fill
to a 16th 4/4 rock beat.  Use it within your favorite
16th rock recordings.

     Single stroke and single paradiddle fills work exactly
the same way.  If you can play one rudiment type,
the others will be a piece of cake.  All these rolls
may be adapted to the music in nearly identical
ways, only the stroke patterns will differ. BUT . . .
they will sound totally different as they are moved
from drum to drum around the kit.

     This is true with almost ANY rudiment.

     Think, experiment, then think some more!

_____________________________________________________


*********** Funny Thoughts *************

SOME YOU'VE HEARD . . .
SOME ARE NEW . . .

Get a good giggle!
     
      
HOW DO CRAZY PEOPLE GO THROUGH THE FOREST?
THEY TAKE THE PSYCHO PATH.

WHAT DO YOU CALL A BOOMERANG THAT DOESN'T WORK?
A STICK.
     
WHAT DO YOU CALL CHEESE THAT ISN'T YOURS?
NACHO CHEESE.
     
WHAT DO YOU CALL SANTA'S HELPERS?
SUBORDINATE CLAUSES.
     
WHAT DO YOU CALL FOUR BULLFIGHTERS IN QUICKSAND?
QUATRO SINKO.
     
WHAT DO YOU GET FROM A PAMPERED COW?
SPOILED MILK.
     
WHAT DO YOU GET WHEN YOU CROSS A SNOWMAN WITH A VAMPIRE?
FROSTBITE.
     
WHAT LIES AT THE BOTTOM OF THE OCEAN AND TWITCHES?
A NERVOUS WRECK.




 



Your future career may LITERALLY depend on  THIS IDEA.



END OF TEMPO DISPATCH #42 Jun 5, 2000






Copyright Bill Powelson 1994 all rights reserved.