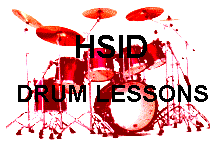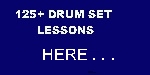 Lesson Menu #2 Intermediate & Advanced.
Lesson Menu #3
Advanced & Ultra-Advanced.
Lesson Menu #4
Text lessons: All levels.

PRODUCTS:

GET ALL THE PRODUCTS AT ONE LOW PRICE.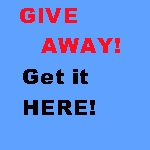 SURPRISES ABOUND . . .

For those with a bit of generosity in their soul.
CLICK HERE , to see what I mean.

Intermediate & Advanced
Drummers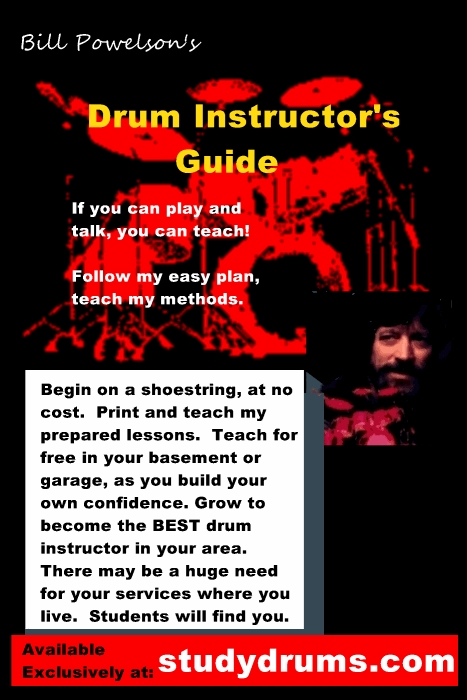 Your future is waiting.

ALL MUSICIANS
MASTER
ALL RHYTHM,

This FASCINATING WAY!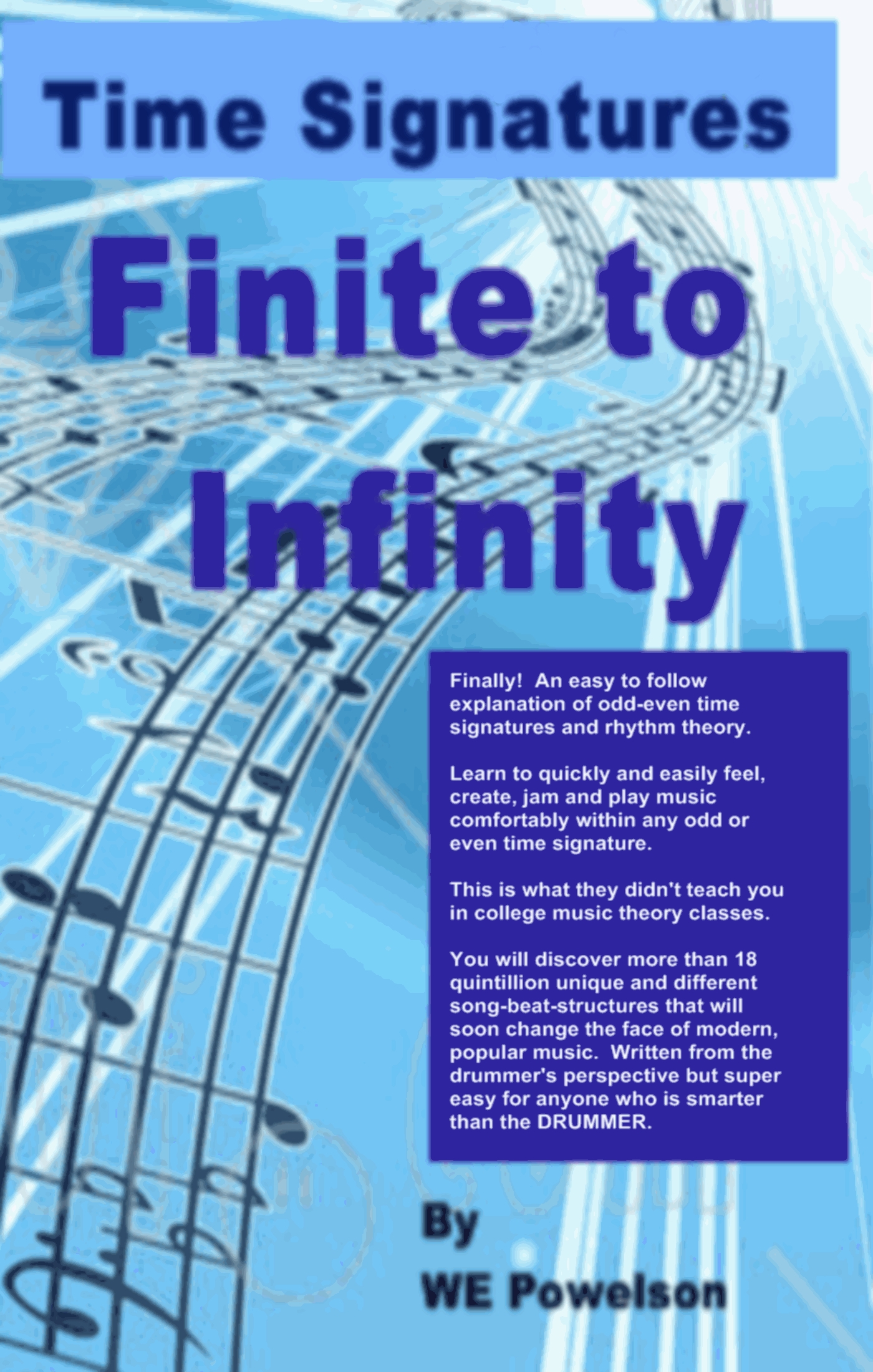 Discover the 'LOST KEY' for Unraveling ALL the mysteries of rhythm, and musical time.
This work is the crowning-achievement of my 50 year career, and it's my proudest accomplishment.
It contains the potential to help YOU change the face of modern music!
You'll love it! CLICK HERE to check it out completely!
You're in for a MAJOR surprise!

"PRE-SCHOOL DRUMMER?

YES!"
Can we teach rhythm
to pre-schoolers?

YES!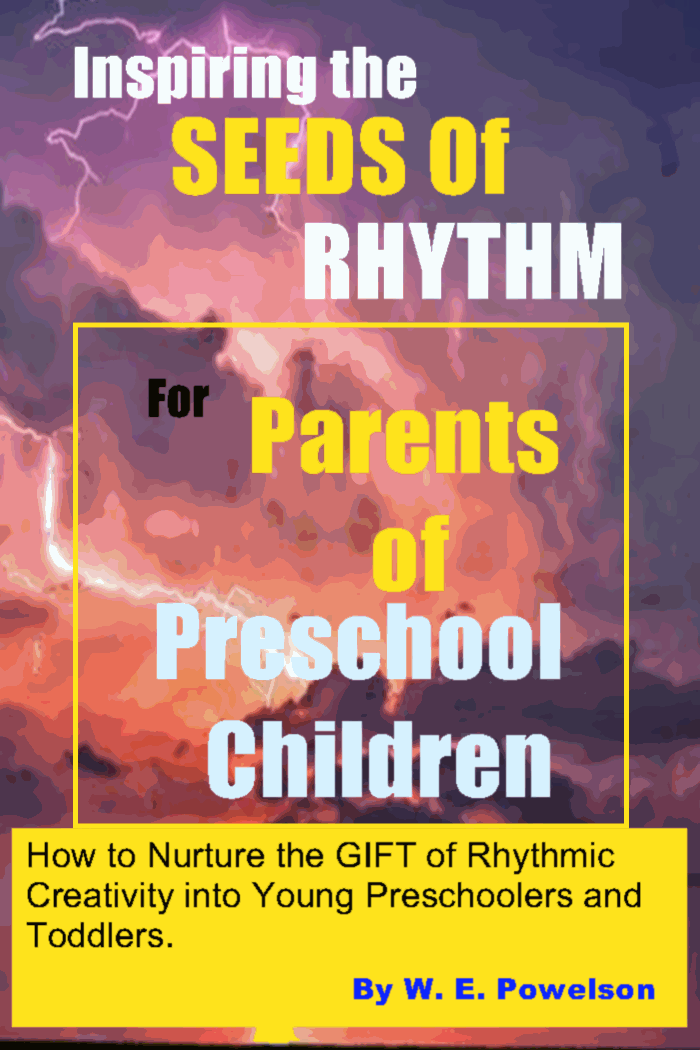 This is a very short course, designed to help adults plant the seeds of rhythm into children of nearly any age.

CLICK HERE

FREE ELECTRONIC BOOK BONUS (also included)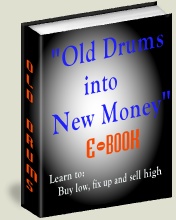 BUSINESS OPPORTUNITY:
MAKE BIG MONEY SELLING USED DRUMSETS!
* INSIDER HARDBALL-BUYING-TIPS AND SECRETS.
* UNIQUE RECOVERING SECRETS

Support this site and and gain an advetising bargain with the deal.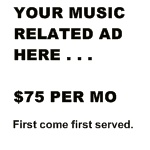 Place a permanent ad here.

GET ALL THE PRODUCTS AT ONE LOW PRICE.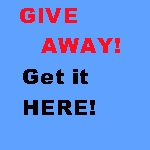 SURPRISES ABOUND . . .

For those with a bit of generosity in their soul.
CLICK HERE , to see what I mean.

Downloads * Drummers Trivia * Drummers Chat Rooms * Rudiments *
Digital Music * Knowledge Assessments * TD Archives * Drum Set Buyers Guide *
Bass-Player Jokes * Assembling a Drum Set * Parts of a Drum Set * About HSID * Video Troubleshooter

Bill Powelson's School of Drums




 Back to the Tempo Dispatch Archives  


ISSUE #35 \__\__\___THE____/__/__/ Nov 5, 1999
_____________TEMPO DISPATCH _____________
Newsletter For Drummers and Drumming Enthusiasts
Copyright Bill Powelson 1999 all rights reserved.

_____________________________________________

TABLE OF CONTENTS What is in this issue?
1. Feature Article:

      OVERCOMING STAGE-FRIGHT


2. Humor

______________________________________
|__________FEATURE ARTICLE___________|

    OVERCOMING STAGE-FRIGHT . . .

    It is possible for some to never experience
the pre-gig jitters, but for most of us . . .
stage fright can be a nightmare!
    There are ways to combat and conquer those
anxieties!

    In this lesson, I hope to offer a few tips
that may one day get all of you gracefully
over this potentially nasty little hump.

THINGS TO REMEMBER . . .
    *  Most onstage fear will totally subside
after the first 5 or 10 minutes, once we actually
begin playing.

    *  Each new public performance will usually
cause some initial fear in those moments before
the music starts.  But, after 8 or 10 complete
gigs, almost all the fear subsides completely.
We finally reach a point where there is no
nervousness at all, before or during a gig.
    This is especially true if we stay with the same band.
Confidence comes with knowing exactly what we are going to do
on each song.  Then, the fear gets swallowed up
by eager anticipation.  Stage-fright gets replaced by the
feeling that we can't wait to get out there and
show 'em what we've got as a team.

AVOIDING STAGE-FRIGHT ALTOGETHER . . .
     The following formula could help
you avoid ever experiencing any onstage anxiety
at all:

     *  Stick with friends . . . build your
confidence in a garage-band with friends who are
at your same level of development.  Forgive
them for their short-comings and expect the
same from them.  Just play for fun without
an audience until your show is fine-tuned
to perfection.

    Hopefully, when your garage-band scores that first
gig . . . you'll be ready as a team.

    There is just something about working with
a well-oiled killing machine that expels fear
altogether. There'll be nothing to fear, and you'll
know it in your heart!  Stage Fright may never
have a chance to fester in a situation like that.
All symptoms of stage fright may then be pleasantly replaced
by those more positive feelings of eager anticipation
I mentioned earlier.

DON'TS:
   * Avoid the following situations until stage-fright
is no longer an issue . . .

   * Be cautious about sitting-in 'cold', with people you
don't know.  Musicians can sometimes be calloused
and insensitive . . . especially if their own
egos and jealousies get involved.  It isn't
uncommon at all to get blamed for mistakes
you didn't cause . . . or make.  There are a
lot of unprofessional people in the business
who will try to lay their own inadequacies off
on someone new in the group.  The sit-in or
new drummer will often become a target for
everyones criticism.   It's rough . . . being
compared to the last drummer, who may have
devoted a year or two . . . building a band
around his own ideas.  Then, you walk in . . .
with new or different ideas . . . and often . . .
you may get slaughtered . . . even if you're
a better drummer than the last guy.

  The above situation can be tough on a
seasoned pro . . . and totally devastating
to a beginner just starting out.

  In short . . . to avoid stage fright altogether.
Get your act together with a garage-band, and grow
with them as they grow.  In the beginning, stick
with the friends who know and like you.  Fine
tune your act as a band, until it smokes . . . then put it
onstage and don't be afraid to ask for good money!  All
fear and stage-fright will cease to exist once you
get your hands on the money!

    Good luck!


*********** HUMOR *************

*~~~* Great Bumper Stickers *~~~~~*

* A bartender is just a pharmacist with a limited inventory.
* If at first you do succeed, try not to look astonished.
* Help wanted telepath: you know where to apply.
* I.R.S.: We've got what it takes to take what you've got.
* Jesus loves you... everyone else thinks you're a jerk.
* Keep honking, I'm reloading.
* Hang up and drive.
* Guns don't kill people, postal workers do.
* Ask me about microwaving cats for fun and profit.
* Friends don't let Friends drive Naked.
* If we aren't supposed to eat animals, why are they made of meat?
* Lottery: A tax on people who are bad at math.
* Diplomacy is the art of saying 'Nice doggie!'... till you can find a
rock.
________________________________________
If you enjoy this little 'e-zine' please show your
support by reading the ads and buying the products
in the left-margin.



 



 This topic could save you YEARS and give you renewed ambition.





END OF TEMPO DISPATCH #35 Nov 5, 1999




Copyright Bill Powelson 1994 all rights reserved.