Bill Powelson's School of Drums
BECOME A MEMBER!

PRIVATE DRUM SET LESSONS ONLINE!

All enrollments are now considered donations. Be sure you understand the new 'donation' concept, BY CLICKING HERE. A $45 donation now buys all the products and lessons (below).

BECOME A MEMBER! Enroll into this COMPLETE 125-lesson drumset course. You'll save years of time and frustration! This is the fastest, easiest and most complete drumming course on the planet. STUDY AD-FREE! Receive all downloads and future updates.

I've devoted a lifetime of experience and 2,000 hours of my own time and knowledge, towards helping YOU reach YOUR goals. It costs nearly $500 per month just to keep all this available!

It's virtually the same as PRIVATE lessons with a PRIVATE instructor, except you'll study at your own pace, any time of day or night . . . at only a fraction of the cost of PRIVATE lessons!

"My objective as your teacher, is to help you go pro, within the shortest possible amount of time." (Bill Powelson)

PLEASE READ THIS! IT IS TO BECOME A ROADMAP OF YOUR FUTURE DRUMMING CAREER!

This ELECTRONIC course is a virtual TREASURE TROVE of practical onstage DRUMMING information. Learn drumming tricks of the trade that are normally unavailable anywhere. You'll not only develop and cultivate your talent for drumming, but you'll also learn all the necessary ins-and-outs of the music business, from a pro who has been in those same trenches more than 49 years.




DRUMSET HOMESTUDY COURSE


NOW, OVER 125-PRIVATE DRUM LESSONS ONLINE!.

Donate now, BEFORE the price goes up again!

Receive permanent membership. All UPDATES will be free.

You will receive this complete course TWO DIFFERENT WAYS . . .


PASSWORD AUTHORIZATION TO THE 125+ LESSON *MEMBERS ONLY* WEBSITE.

DOWNLOADABLE ZIP (Study without being online. It works JUST LIKE a CD.)

NO waiting! You'll get it all the same day you donate.

UNLIMITED PROFESSIONAL/PERSONAL E-MAIL HELP, any time you need it.
100% UNCONDITIONAL GUARANTEE! You'll receive a complete refund if you aren't totally thrilled with this course!

"As your personal online drum instructor, I ALSO hope to become one of your BEST online friends". (Bill Powelson)

HERE IS A LISTING OF ALL THE LESSONS AND BONUSES contained within the course. It's a ROADMAP of your drumming future! This WEB PAGE is a LESSON in itself. You are about to discover everything you'll NEED TO LEARN, if you are aspiring to become a pro-drummer.

Yes! Some, (but not all) of these lessons are free right now online, because I want you to see and experience my unique, one-of-a-kind teaching methods. To save time . . . and learn faster, you'll need all the downloads, bonuses, and password access to the really good stuff.

YOU ARE ABOUT TO DISCOVER . . .

WHAT YOU WILL NEED TO KNOW, to make your climb to the top of the professional heap.

READ THIS 'ENTIRE LIST' OF LESSONS, FOR THOSE ANSWERS!

I have 50 years of experience, teaching (by day) and playing professionally (by night.) I can take you from the 'first simple steps', and into a PRO-CAREER, within the 125+ lessons of this course. This may be the most complete drumset study-course in the entire world. PLUS . . . I'll give you five other BONUS COURSES, that are guaranteed to bring you rapid success, in the shortest time possible . . . ANY WHERE!

THE LESSONS . . .

*** LEVEL #1: Beginners ***

The Introductory Page: My goal here is to convince everyone they should give drumming a try.

1. Drummers Aptitude Test: This page is a must for the curious. Prove that you can do it. Complete this page and discover that a career in drumming may be only five minutes away!

2. Reading Drum Notation: Forget all your fears about reading music. You will be doing it comfortably in five minutes. This little bit of knowledge will get you through the more difficult lessons ahead.

LEVEL #2: Intermediate

Many professional drummers are unaware of the material contained in this level. A solid foundation here is crucial to all 'ear' players. This knowledge will help you overcome those bad gigs. It will get you through the rough times when you just can't seem to 'feel' the music.

LEVEL #3: - ADVANCED -

Advanced Students Only! If you have trouble with these patterns, maybe you are moving too fast. Slow down or back up. Give the previous lessons ample time to digest. If this material seems too easy then jump to the next level.

17*. ROCK SYNCOPATIONS: These patterns will put the 'fun' into 'funky'. You should have a solid feel for rock variations before attempting syncopations. Learn FUNK, FATBACK and all the other popular rhythms structures that are the foundations to today's music styles, in EVERY GENRE from Classic Rock, C&W, Soul, Jazz, Pop, Punk, Metal and all the others.

18* RUDIMENTS, ROLLS and FILLS (Part 2): A little knowledge can take you a long way. Learn to extend and combine fills within a beat pattern or a song. This lesson, when mixed with a little imagination, will add polish to your style. This topic includes several separate lessons.

LEVEL #4: - ULTRA ADVANCED -

19** & 20** PERMUTATIONS: Anyone can follow this material but it requires considerable thought. This is truly awesome stuff. If you are not impressed then I suggest you go over it until you are. Only the ignorant will label this as lightweight. In this lesson we will not only discover a minimum of 4.297 billion beat variations that exist in eighth note 4/4 'rock'. We will also give each variation a number/name. The knowledge gained here will explode exponentially when applied to the upcoming 'Time Signature' lesson. This is fascinating stuff!

21** TIME SIGNATURES: The permutation theory will literally become invaluable here. You will learn time signature formulas from 1/1 thru 64/64. Then, as we gain an understanding of time signatures, we will blow each time signature into several note value modifications, each with a gazillion named and numbered beat variations (permutations.) I say gazillion because I have not tallied to a final number. Both my computers and all three of my pocket calculators ran out of zeros before the job was even half done. I can determine five quintillion individual 3/4 Waltz beats but that is only one time signature. EVERY DANCEBEAT IN THE MUSICAL WORLD NOW HAS NUMBER NAME! You have just become a drumming wizard! The more you think . . . the more you will learn. The knowledge gained here will allow you to become your own teacher!

FREE ELECTRONIC BOOK BONUS

BUSINESS OPPORTUNITY:

MAKE BIG MONEY SELLING USED DRUMSETS!

* INSIDER HARDBALL-BUYING-TIPS AND SECRETS.

* UNIQUE RECOVERING SECRETS

(INCLUDED FREE IN $49.00 HSID HOMESTUDY PACKAGE)

THAT ISN'T ALL! HERE'S MORE . . .
*** MORE LESSONS WITH VIDEO ***

At one time these lessons were in the form of special E-Mail lessons but now they have all been converted to hypertext, complete with images and sound files.
1e-m*. 16TH 4/4 VARIATIONS: 4.3 billion ideas exist in every measure of this beat category. All drummers should have an arsenal of these variations in their trick bag. Fill patterns operate differently in this framework too. If you have ever heard 'Tom Sawyer' by Rush, you have heard a complex 16th 4/4 variation. These beats are a ton of fun!

2e-m*. BLUES VARIATIONS AND FILLS: (bass syncs included) 16 million possibilities per measure. Every drummer will need a bundle of these tricks too.

TRY THIS TEST . . .


Begin with a solid, basic blues beat and try doing a 'fill' of any type. If you have trouble . . . I have lessons that will help. Blues fills are a little different.

3e-m*. EIGHTH ROCK VARIATIONS, SYNCOPATIONS & FILLS. Some of this stuff has been covered online, but there are still tons of tricks in this category too. We can go much deeper into these if you choose to do so. Just give me some indication as to what you know already. I will try to take it from there.

4e-m*. QUARTER ROCK 4/4: 90s music has made this a very popular beat category. 65536 possible variations exist in every measure. The fill patterns are similar to 8th rock but there are some differences.

5e-m*. RUDIMENTS, TIPS & ADVANCED FILLS. This lesson is for those of you who are having trouble will rolls and fills. It is guaranteed to take the embarrassing kinks out of your playing style. Learn to connect will fills every time in mid-song! Contains beginner and advanced material.

6e-m*. WALTZ: The Waltz beat is loaded with innovative and fascinating rhythms (over 5 Quintillion per measure) but due to its current lack of popularity . . . maybe it is better to save it for last.

7e-m*. DRUM SOLO TIPS: The quickest easiest way to get your chops together and start playing solos' like a pro in only a matter of days!

8e-m*: 'SWING' Swing is really a variation of Shuffle! Or is it the other way around? Maybe Shuffle is a variation of Swing. At any rate, Swing is central to Jazz drumming! Learn about it here!

9e-m*: 'Disco'This beat might best be called '0verhand 16th 4/4'. It got stuck with the undeserved Disco handle back in the 70s and in many minds, the name doesn't do this interesting pattern justice. The truth is, this fascinating pattern existed before the so-called Disco era and it has survived it. This form of 16th 4/4 is still very popular today and it should be for many years to come.

10e-m*: 'Reggae & Ska' I am still searching for verified histories of these two beat patterns. Meanwhile, I'll just pass along what I have picked up over the years. Legend has it that Ska came first from Europe during the early days of the British rock and pop invasions of the 1960s. Actually, classic Reggae and Ska are based on the same general beat patterns.

11e-m*: 'Polka, CutTime 2/4 and Up-Tempo Jazz'There are easier substitute beat patterns that can be used in place of these patterns. You might play a lifetime without these beats and never have a problem. So, if they drive you crazy and leave you frustrated . . . DON'T PANIC! You can put them on the back-burner for study at another time.

12e-m*: Syncopated Jazz Waltz . . . Based on the Swing Beat. This beat is a Jazz Classic! Sooner or later . . . you'll need it!

13e-m*: Syncopated 5/4 . . . Based on the Swing Beat. This is another Jazz Classic! I've met people who think this is the ONLY 5/4 beat pattern! Yet, we discover through permutation theories that over 1 Trillion 5/4 beat patterns exist. Every drummer needs this one in his/her trick bag, whether it's ever used or not. Knowledge is power! You'll need to know what you are talking about even if this only comes up in conversation.

14e-m*: Using brushes with modern music styles: In this lesson we are speaking primarily of old-fashioned wire brushes used to swish, slap and scratch rhythms at low volumes. More useful knowledge to add to your Jazz info base.

Rimshot techniques: Just in case you don't know what I'm talking about when I mention Layover Rimshots or Power Rimshots.

LATIN RHYTHMS W/ SOUND AND IMAGES

Cha-Cha: Every drummer needs this one! Don't miss it!

Bossa-Nova: Now matter how old it gets, this one still cooks!

Calypso: An old name for some very new movements in Caribbean rhythms. This somewhat simple pattern will also help prepare you for the more complex Latin beat patterns to follow.

Lambada / Calypso: I've heard this one called by many street names. It is currently very HOT,HOT,HOT!

Mambo: Another old name for some very valuable patterns! These rhythms may be easily converted to American POP styles by leaving out the rimshots and tom licks. Yes, they make excellent substitutes for beat patterns like Quarter Rock and Cut-Time 2/4. Don't cop-out on these! You need them, no matter what style of music you lean towards!

Salsa: If this one doesn't fry your brain, nothing will!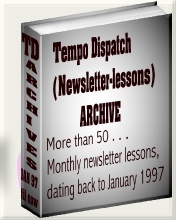 AND THAT ISN'T ALL. . . . HERE'S MORE!
Also included, . . . are these mind-blowing lessons from the Tempo Dispatch archives (Now, there are MORE than 76+ additional drum set lessons in the archives, AND you'll receive a new e-mail lesson EVERY MONTH. Updated March 2003.)
TD # 1. Creativity Vs. Academics
TD # 2. The Beauty Secrets of Simplistic Drumming
TD # 3. SOLO TIPS & FAQ
TD # 4. Improvised Fills using the Hi-hat
TD # 5. SOLO TIPS II
TD # 6. Getting That First Gig
TD # 7. Beating the Monster Players to that 'Dream Gig'
TD # 8. 'SCAVENGER HUNT' Hidden website lesson: 16th 4/4
TD # 9. CUT-TIME 2/4 (POLKA)
TD # 10. Jamming!
TD # 11. Special Help with FATBACK
TD # 12. Tuning Tips
TD # 13. Learning to Write & Read drum notation.(Part I)
TD # 14. Learning to Write & Read drum notation.(Part II)
TD # 15. Solo Techniques (Triplets)
TD # 16. Feeling The Backbeat
TD # 17. PERFECTION / Internal Clocks & Rudiments
TD # 18. THE 'UNIVERSAL' SONG COUNT
TD # 19. DUMP THE TABS AND JAM!
TD # 20. STICKS, PEDALS & SOUTHPAWS
TD # 21. CYMBAL TIPS AND TRICKS
TD # 22. Personal Musical Tastes VS The Real World
TD # 23. DRUM SOLO MAGIC!
TD # 24. 'PLAYING PERFECT FILLS': All mysteries solved!!!
TD # 25. First Night On A New Gig! (Calming the jitters!)
TD # 26. HI-HAT Tips and Tricks
TD # 27. Reading Drum Notation:  More helpful tips
TD # 28. Guide to Development & Control
TD # 29. TEMPO TEAMWORK: Eliminating self-doubt
TD # 30. Learning to Learn!
TD # 31. Double Bass and Song Ending Tips
TD # 32. The Quest For Perfect Fills
TD # 33. Using (open) 32nd-Note Rolls In Mid-Song
TD # 34 READING DRUM NOTATION: A Practical Perspective
TD # 35 Overcoming Stage-Fright
TD # 36 Coordination tips
TD # 37 Swishing the Hi-Hat
TD # 38 Warm-Ups & Practice Rituals
TD # 39. PRESS ROLLS & RUFFS
TD # 40. Adapting 'Ruffs': Making Funky, Funkier!
TD # 41 MORE . . . Drum Solo Goodies
TD # 42 Rudiment Applications / Drumset
TD # 43 Feeling The Groove"
TD # 44 The Birth of Rhythmic Ideas"
TD # 45 The #1 Secret to Drumming Success"
TD # 46 DRUMMING MATH = SWISS-WATCH-TIMING!
TD # 47. Spice Up Your FILLS (PART I)
TD # 47b. Spice Up Your FILLS (PART II)
TD # 48. Two free drum lessons this month
TD # 49. Buying Drums - Getting ROI
TD # 50. DRUMS: Faster Fills+MORE FUN!
TD # 51. DRUMS: USING 'FLAMS' AS FILLS
TD # 52. QUIETER PRACTICE DRUMS
TD # 53. DRUMS: Sight-reading tips
TD # 54. DRUMS: Snare Rattle / Partial Remedies!
TD # 55. DRUMMING APTITUDE / SELF-TEST
TD # 56. Maintaining your PASSION-4-DRUMS.
TD # 57. Counter-Rhythms and Poly-Rhythms
TD # 58. TWO SURPRISE DRUM LESSONS this month
TD # 59. FAST TEMPO FILLS / Punk and Jazz
TD # 60. Drumset Bargain Hunting!
TD # 61. Coordination Solutions (Drumset)
TD # 62: TD #62: Rudiment help (Drumset)
TD # 63: Common sense & drumming improvement (Drumset)
TD # 64: Drumming Imagination
TD # 65: Working the Cymbals
TD # 66: TIME SIGS: 6/8 vs 4/4?
TD # 67: More help with Rudiments/Fills?
TD # 68: Coordination / Age / Tuning Tips
TD # 69: Tips for improving the WEAK-HAND.
TD # 70: 32nd Doubles, / Fills n Solos
TD # 71: Tempo perfection
TD # 72: Drumming Stats/Female
TD # 72: DRUMS / Punk, Metal, Reggae, Jazz.
TD # 74: Mastering Bass Techniques without drums.
TD # 75: Teach to learn.
TD # 76: Mastering Independence / Drums
The above newsletter lessons are through March 2003, there are 78 issues. Included for free!
DONATE AND RECEIVE THE 125-LESSON, $45.00 HOMESTUDY COURSE BY MIDNIGHT TONIGHT AND RECEIVE ALL 5 ADDITIONAL BONUS COURSES FOR FREE!

*** $45 LIFETIME MEMBERSHIP $45 ***
125-lesson course, plus downloads and 5 bonus courses . . .
all for one low $45 donation/fee.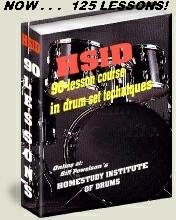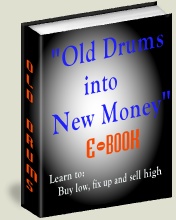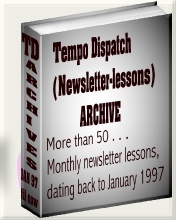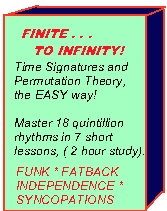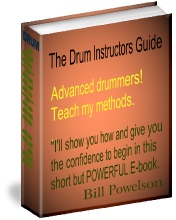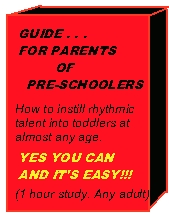 RECEIVE ALL 6 ONLINE E-MANUALS:

Password authorization to more than 125 secret website lessons, most with video!
Dowloadable! Place it on a CD or DVD if you wish.
"Old Drums Into New Money"
78 (or more) archived newsletter lessons.
Finite to Infinity (Time Signature and Permutation Theory)
Drum Instructor's Guide.
Guide for Parents of Pre-schoolers. Teaching toddlers!
UNLIMITED e-mail personal help anytime you need it.
FREE UPDATES.
PERMANENT MEMBERSHIP.
TOTAL, 100% SATISFACTION GUARANTEE. If your aren't totally thrilled, I'll refund every penny.

These courses are 100% digital and immediate. NO WAITING FOR SNAIL-MAIL!
Instant access! and easy to download.
TOTAL DONATION $45.00 US FUNDS.



This $45.00 SPECIAL DONATION OFFER MAY EXPIRE AT ANY TIME. Be sure to donate by Midnight tonight, to be certain you'll receive this TIME-SENSITIVE, low-cost enrollment package deal. DONATE NOW AND SAVE! The price may increase by tomorrow. It's too low. This is a $2,000.00 course of study!
CREDIT CARDS ACCEPTED!!
FAST, DIRECT and SECURE processing!!!

ENROLL NOW AND RECEIVE EVERYTHING TODAY, by clicking on the credit card icons!!
DONATE WITH YOUR CREDIT CARD NOW!!!
*** NO WAITING! *** You do not have to have a PAYPAL account to process a credit card via Paypal. It's the same as purchasing with a credit card anywhere else.

EVERYTHING ABOVE . . . ONLY $45.00 U.S. DOLLARS!
DONATE/ENROLL NOW, BEFORE THE ANTICIPATED PRICE INCREASE! All customers may sign-up immediately, quickly and easily with a credit card now!
You do not have to have a PAYPAL account to process a credit card via Paypal. It's the same as purchasing with a credit card anywhere else.
*** DONATIONS ACCEPTED ***

NOTICE! Your donation of $45 or more will entitle you to EVERYTHING. You'll receive complete member status, including all the bonus courses (explained above), free downloads, unlimited e-mail help . . . EVERYTHING!
PLUS . . . You will be helping impoverished kids all around the world to receive help and lessons that would otherwise be impossible for them to acquire. You may donate now and receive ADDITIONAL FREE SURPRISES . . .
. . . OR READ ABOUT THEM HERE . . .

Click here to understand the DONATION CONCEPT.

(All enrollments are currently being considered as donations, as of 06/01/09.)
Email your comments to Bill Powelson drums02@earthlink.net
Copyright Bill Powelson 1994 all rights reserved.